Liverpool Pass Their First Test (and Chelsea win their first game!)
Outside of the Prem, Barcelona, Bayern, PSG and Juventus all win.
If you're new to '5 Minute Football Club' and European football in general, I'd recommend reading this primer to better understand how the leagues in Europe are set-up as well as the terminology (Who are the Big Six? What's a table?) around the game. It will help you get more out of this newsletter!
I tried a new format this week and broke the newsletter into two sections: the first with results and highlights from the Premier League (focused on the Big Six as usual), and the second with results and highlights from the rest of Europe (focused on the biggest and best clubs outside of the Prem.. more on how I pick and choose the clubs I write about at the bottom).
OK, here we go..
Premier League
- Results and Highlights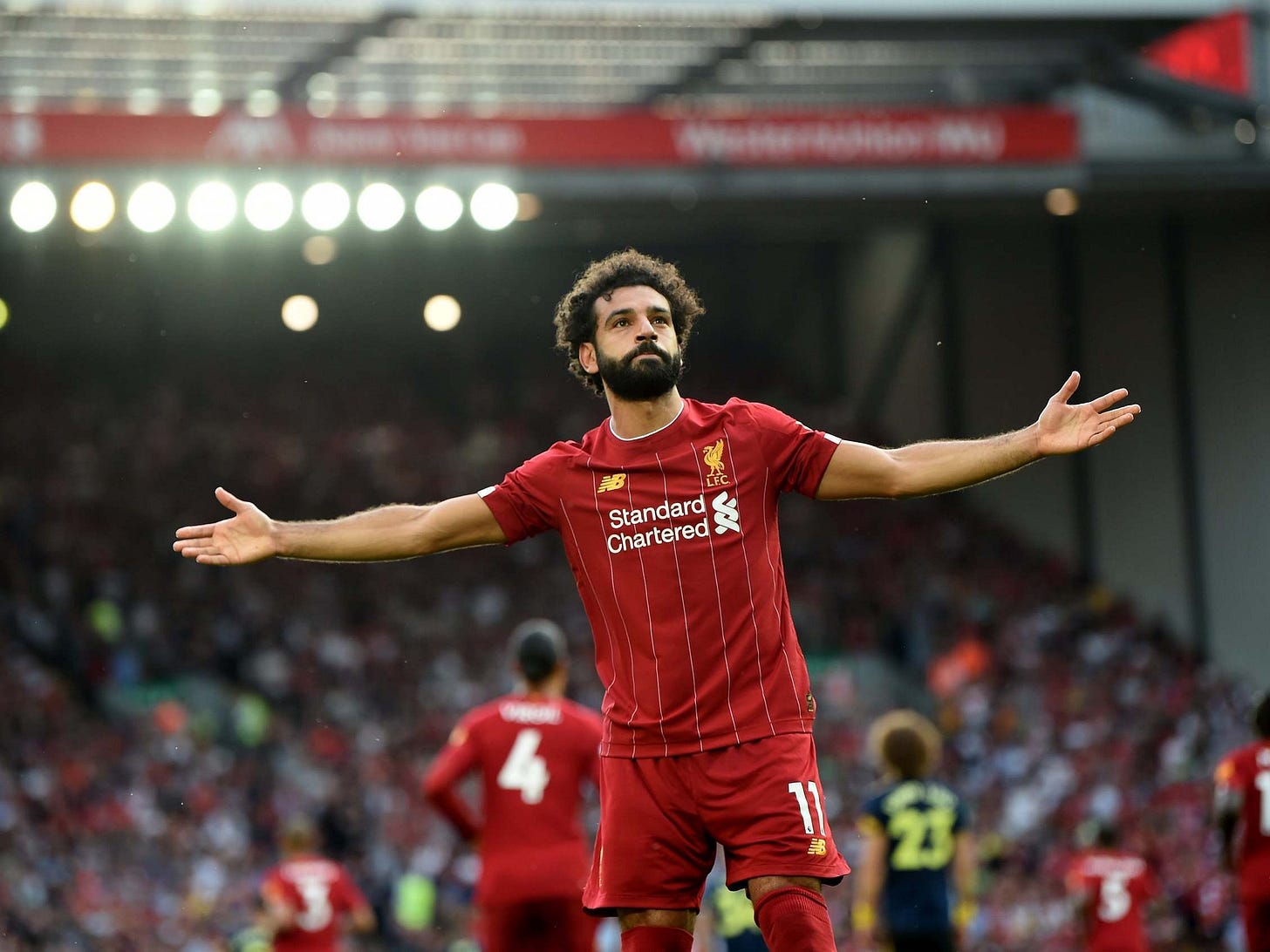 Liverpool 3 - 1 Arsenal

In the marquee matchup of the weekend in England, Liverpool cruised to a 3 - 1 win at home over Arsenal that never really felt like much of a game. Mohamed Salah (pictured above) had his way with the Arsenal defense, scoring two goals and dispelling concerns of a sluggish start to the season (albeit a winning start) for the Reds. Liverpool are now the only team in the Prem to have won all three of their opening fixtures this season, putting them in first place atop the table with 9 points.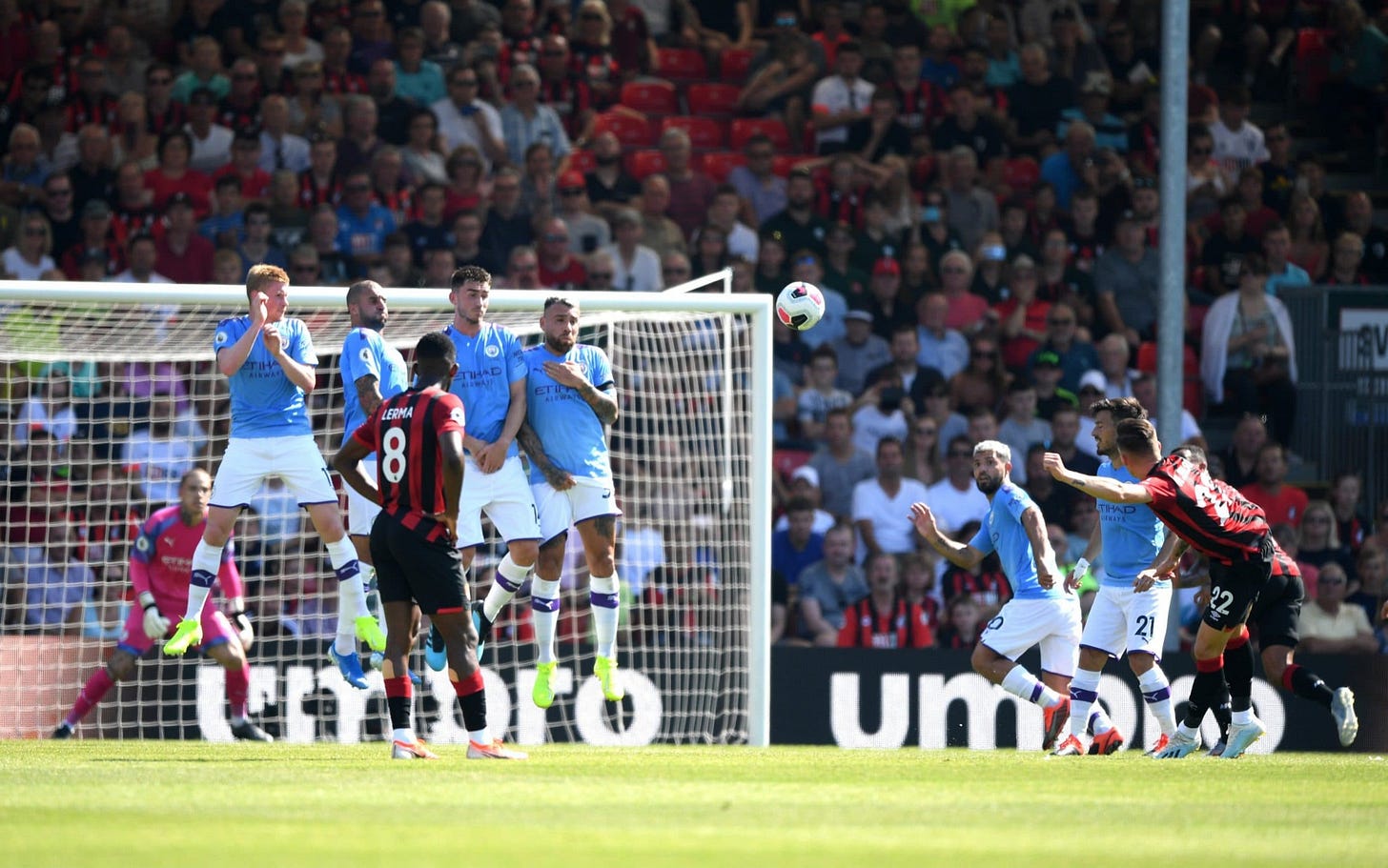 Bournemouth 1 - 3 Manchester City

Just behind Liverpool in the table with 7 points are defending champions Manchester City. They beat Bournemouth 3 - 1 on the road earlier today with goals from Sergio Agüero (2) and Raheem Sterling (1), but the goal of the game belonged to Bournemouth and their 22-year-old winger, Harry Wilson, who took about as perfect a free kick as you can (pictured above) to beat City's Brazilian goalkeeper, Ederson, in the top corner. You should watch the highlight.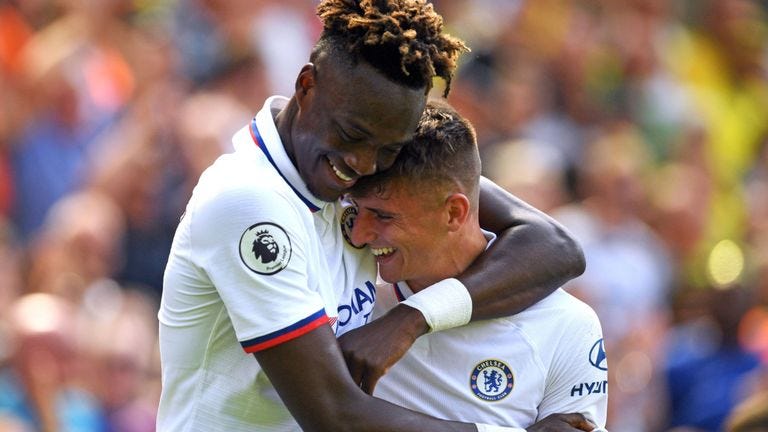 Norwich City 2 - 3 Chelsea

Chelsea legend Frank Lampard finally got his first win as Manager of the Blues in what ended up being the most exciting game to watch this weekend in the Prem. I wrote a couple of weeks ago that if you live in the US and you're just starting to follow the Premier League, you should support Chelsea, and one of the reasons why is because they are loaded with young talent. As such, 21-year-old Tammy Abraham (pictured above, left) scored two goals for the Blues and 20-year-old Mason Mount (pictured above, right) added another in their win this weekend over Norwich City. 20-year-old American Christian Pulisic had a solid game as well, adding another assist to his stat sheet.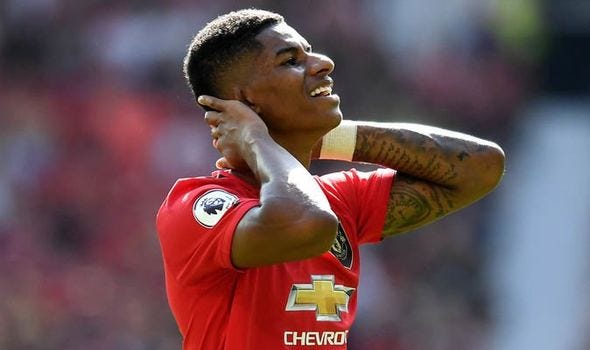 Manchester United 1 - 2 Crystal Palace

After a convincing 3 - 0 win against Chelsea at home to open the season, everything has gone downhill for United. They drew Watford 1 - 1 on the road last weekend in a game that felt more like a loss after Paul Pogba missed a penalty kick, and then this weekend, down 1 - 0 at home to Crystal Palace with 20 minutes to play, Marcus Rashford (pictured above) stepped up to the penalty spot and missed one himself. Ultimately, United found a way to tie it up anyway (with just 2 minutes left in the game!) but minutes later, Crystal Palace converted a sloppy turnover to score the game winning goal - and a very savable goal at that - in stoppage time.
Tottenham 0 - 1 Newcastle

This one is simple: Tottenham are supposed to be the club that give Manchester City and Liverpool a run for their money in the Premier League. Last week, they drew Manchester City on the road in a match they deserved to lose (remember, "everything went their way"), and this week, back at home in London in their brand new stadium, they lost to an on-the-brink-of-turmoil Newcastle side who could very well be at or near last place in the Prem by the end of the season. Spurs cannot afford to lose these types of games if they want to compete for the top spot in the league.. but they just did.

No big surprises elsewhere in the Premier League this weekend, but fourth place (with 5 points) Leicester City deserve a shoutout because this go ahead goal from Harvey Barnes to beat Sheffield United 2 - 1 was an absolute laser.
Here's a screenshot of the Top 5 spots in the table. Note that 10 clubs - from United in 5th to West Ham in 14th - have 4 points, so it will still be a couple of weeks until clubs further separate and the table becomes more compelling.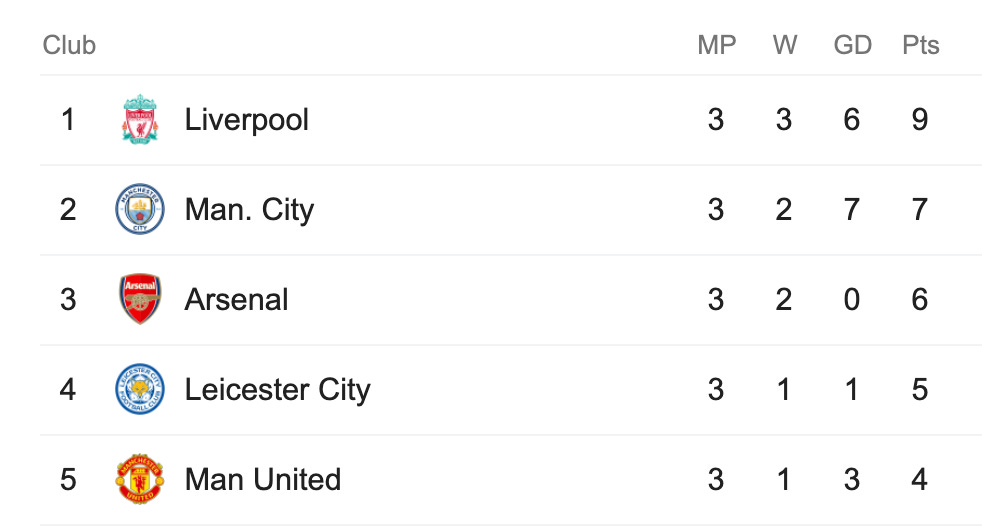 Rest of Europe
-
Results and Highlights
La Liga (Spain)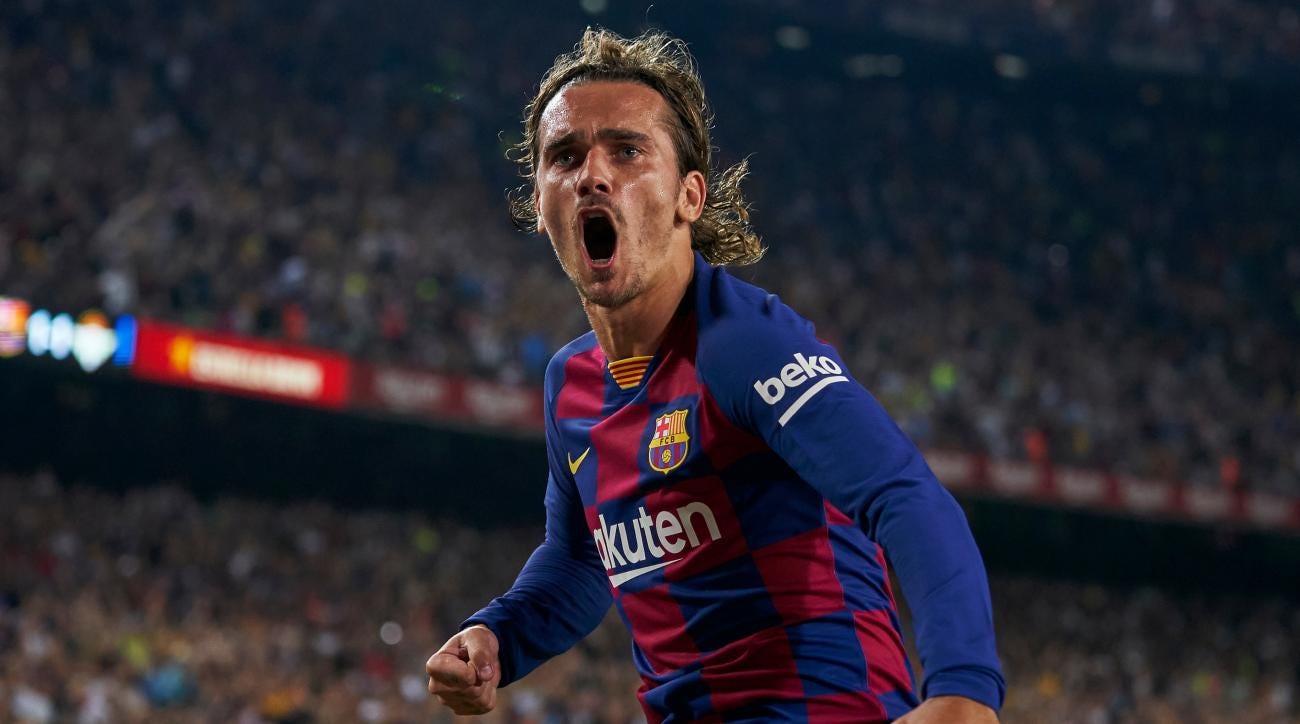 Barcelona 5 - 2 Real Betis

Frenchman Antoine Griezmann (pictured above) scored 2 goals and assisted another in his home debut with Barcelona as injuries to Lionel Messi, Luis Suarez, and Ousmane Dembélé left them out of the squad. Griezmann's second goal to put Barcelona up 2 - 1 early in the second half was incredible, or as beIN Sports announcer Ray Hudson described it, "Magisterial! Stupendously magnificent!" If you watch the highlight, make sure your sound is on.

Real Madrid 1 - 1 Valladolid

Leganes 0 - 1 Atlético Madrid
Bundesliga (Germany)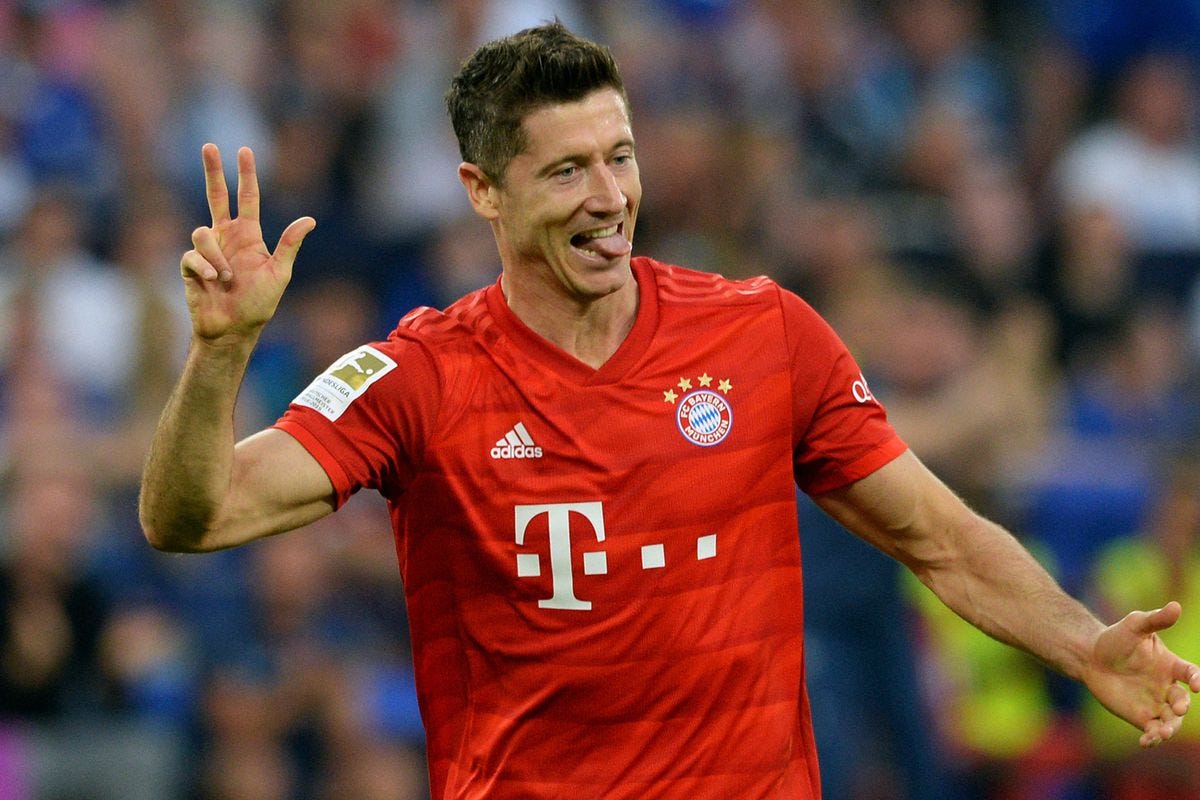 Schalke 0 - 3 Bayern Munich

Bayern got back on track after a 2 - 2 draw last weekend to open their season, beating Schalke 3 - 0 on the road on Saturday thanks to a Robert Lewandowski (pictured above) hat trick.

Dortmund 3 - 1 FC Köln
Ligue 1 (France)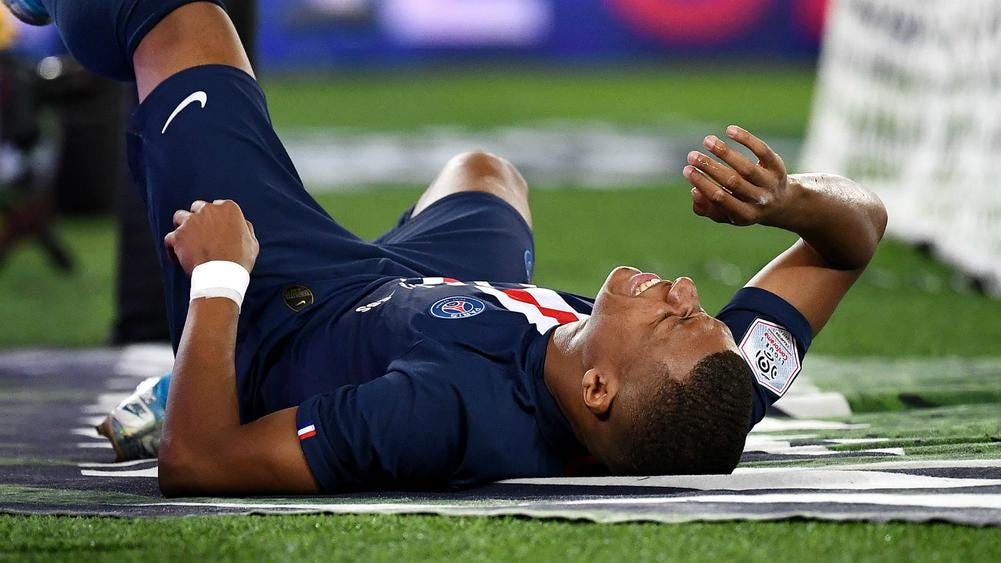 PSG 4 - 0 Toulouse

PSG recovered from their loss last week to Rennes with a 4 - 0 win at home over Toulouse, but the day still ended on a negative for the Paris club as both Kylian Mbappé (pictured above) and Edison Cavani, their two best players after Neymar, both went down with injuries that saw them leave the field. As for Neymar, his future is still up in the air, so I have to believe if either of the injuries end up being even remotely severe, PSG will shut the door on a potential transfer away from the club and find a way to fix their relationship with the Brazilian superstar.
Serie A (Italy)

Parma 0 - 1 Juventus

Roma 3 - 3 Genoa

Fiorentina 3 - 4 Napoli

Inter Milan host Lecce in their first game of the season tomorrow (Monday) at 2:45pm EST. It should be on ESPN+ in the US.
Note: I am thinking that outside of the Premier League, where I mostly just cover the Big Six (Manchester City, Liverpool, Tottenham, Chelsea, Arsenal, Manchester United), I'll cover these clubs in the other leagues:
La Liga - Barcelona, Real Madrid, Atlético Madrid

Bundesliga - Bayern Munich, Borussia Dortmund

Ligue 1 - PSG

Serie A: Juventus, Inter Milan, Roma, Napoli
By October(ish), if there are other clubs in any leagues genuinely competing for the top spot in the table, I'll probably write about them more and start to include their scores on a weekly basis. On the flip side, I'll probably stop writing about and including the scores of a club if they slip out of contention. For example, Roma's season could become really uninteresting, really fast.
The coverage of these big clubs outside of the Prem gets more fun once the Champions League kicks off in mid-September, so that will also play a part in who I do and do not write about.
That's it for this edition! As always, feedback (good and bad) is appreciated.