Discover more from 5 Minute Football Club
Newsletter recapping the week in European football in 5 minutes or less for the exceptionally casual fan.
The Premier League Belongs to Liverpool and Manchester City
But you should support Chelsea, and I'll tell you why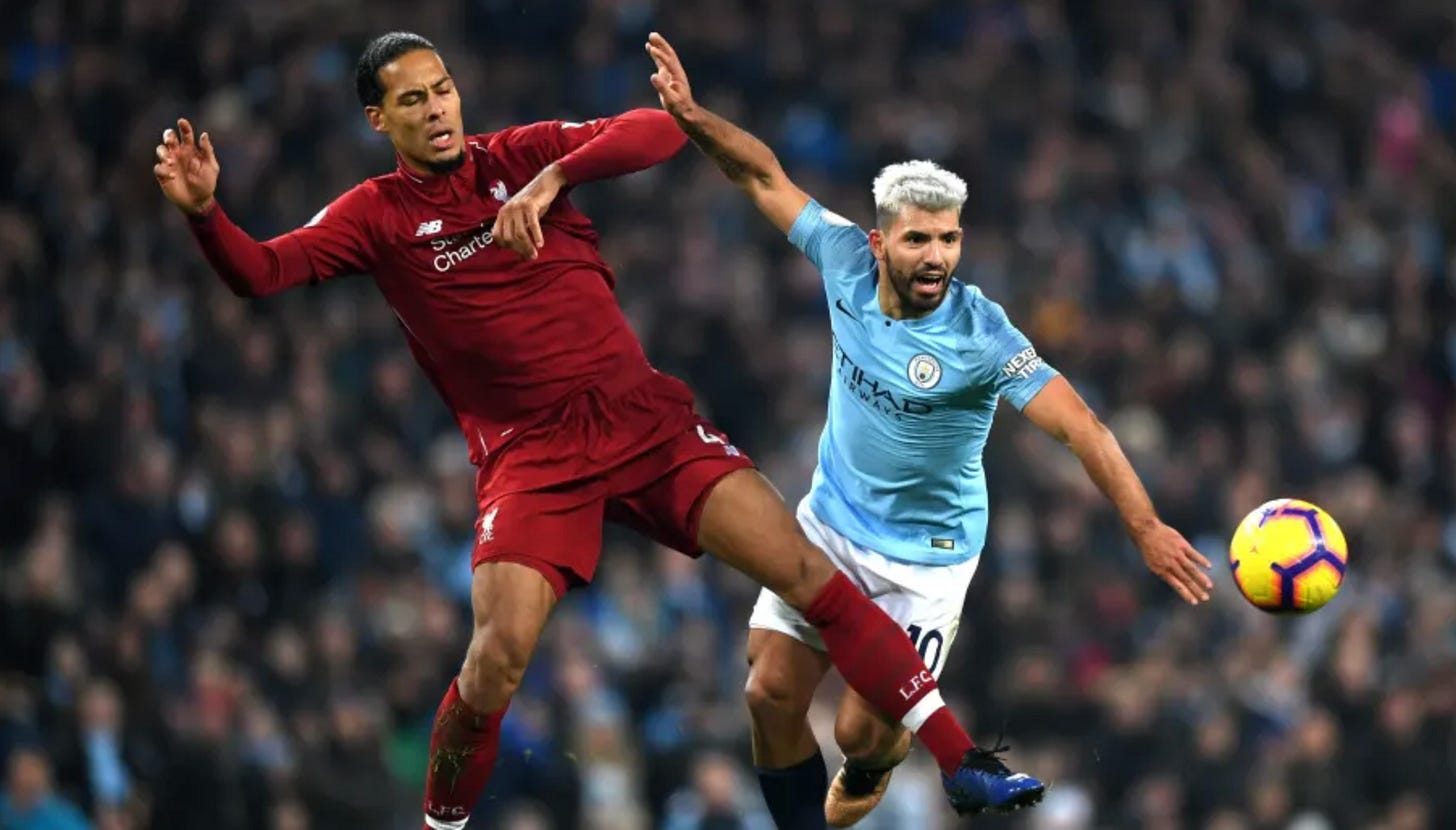 This is the first Monday edition of the '5 Minute Football Club' newsletter.
If you're a new subscriber and missed the first Friday edition, you can read it here: https://5minutefc.substack.com/p/the-premier-league-is-back
Also, if you haven't read the primer I wrote last week as a short guide to everything you need to know about the leagues and competitions I'll be covering each week, I got a lot of great feedback from readers with little to no knowledge of European football that it really helped them contextualize what I wrote about on Friday: https://docs.google.com/document/d/1aMIkmFIg_UfUp8fZWPkFAO0PEjuhoxxb37CBb_xy5hY/edit
On Mondays, I'll do a recap of the major results around Europe (mostly focused on the Premier League), highlights of the best goals, and anything else I am thinking about coming out of the weekend of play. I'll definitely try a couple of different formats these next couple of weeks, so please share your feedback and let me know what you like, what you don't like, etc.
OK, here we go..
#1 - In the Premier League, it's Liverpool, Manchester City, and everybody else
As expected, Liverpool and Manchester City picked up right where they left off at the end of last season and dominated their opening weekend opponents. Liverpool beat Norwich City 4-1, and Manchester City beat West Ham 5-0 on a hat trick from 24-year-old England international Raheem Sterling. Neither Liverpool or City ever looked uncomfortable, and there is a question of if they ever will aside from the two times they play one another this season, and maybe against a healthy, everything-goes-their-way Tottenham side.
Speaking of Tottenham, in their first match of the season against Aston Villa, they were surprised to find themselves down 1-0 after an early goal against a side most expected them to have no issues with. It wasn't until the 73rd minute that they broke through, with new signing Tanguy Ndombele, a 22-year-old French international, scoring his first goal for his new club to tie it up. Then, with less than 5 minutes left in the game, Tottenham's main man and England captain Harry Kane (pictured below) put away back-to-back goals to make it a 3-1 win for Spurs.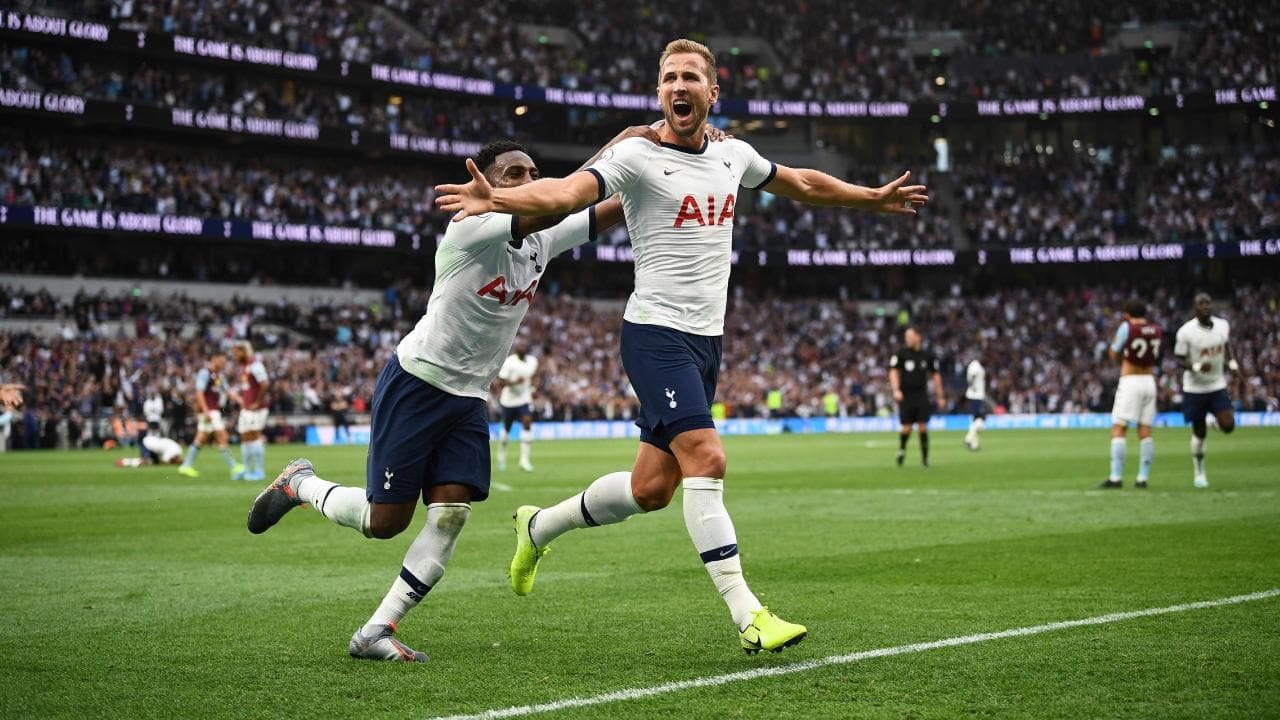 Among the rest of the Big Six, Arsenal beat Newcastle 1-0, and Manchester United beat Chelsea in the marquee matchup of the weekend 4-0. 
Once we're a couple of weeks into the season and teams start to actually pull away in the standings, I'll start to share the actual table so you can see how everyone is stacking up. As a reminder (read the primer if you don't know this!), teams get 3 points for a win, 1 for a draw, and none for a loss.
#2 - Chelsea lost 4-0 to Manchester United yesterday, and it's never been a better time to support the Blues
A few people have asked me who they should support if they are going to start following the Prem this season. I've been a neutral Premier League fan for the past couple of years, so have always given that as my answer: "You don't have to choose! Just watch all of the games!" That said, I know it can be more fun to go all-in on a club, and after watching Chelsea play Manchester United yesterday, the Blues can make a good argument for picking them (despite the 4-0 loss).
For starters, the most obvious reason to support Chelsea (assuming you're reading this from the US) is Christian Pulisic, the 20-year-old, Hershey, Pennsylvania-born winger. As I mentioned on Friday, Pulisic (pictured below) is the face and future of American soccer. You can watch him lace up for Chelsea every weekend, and then watch him captain the US Men's National Team in the coming months and years ahead of the 2022 World Cup in Qatar. He didn't get the start yesterday at Old Trafford, but many believe it had more to do with easing him into all of the pressure on his shoulders as the newest signing at the club than purely a tactical decision. He came on in the 58th minute and played a solid half hour of football to finish the match. Nothing special, but he had a few nice touches and you could see his eagerness to make an impact.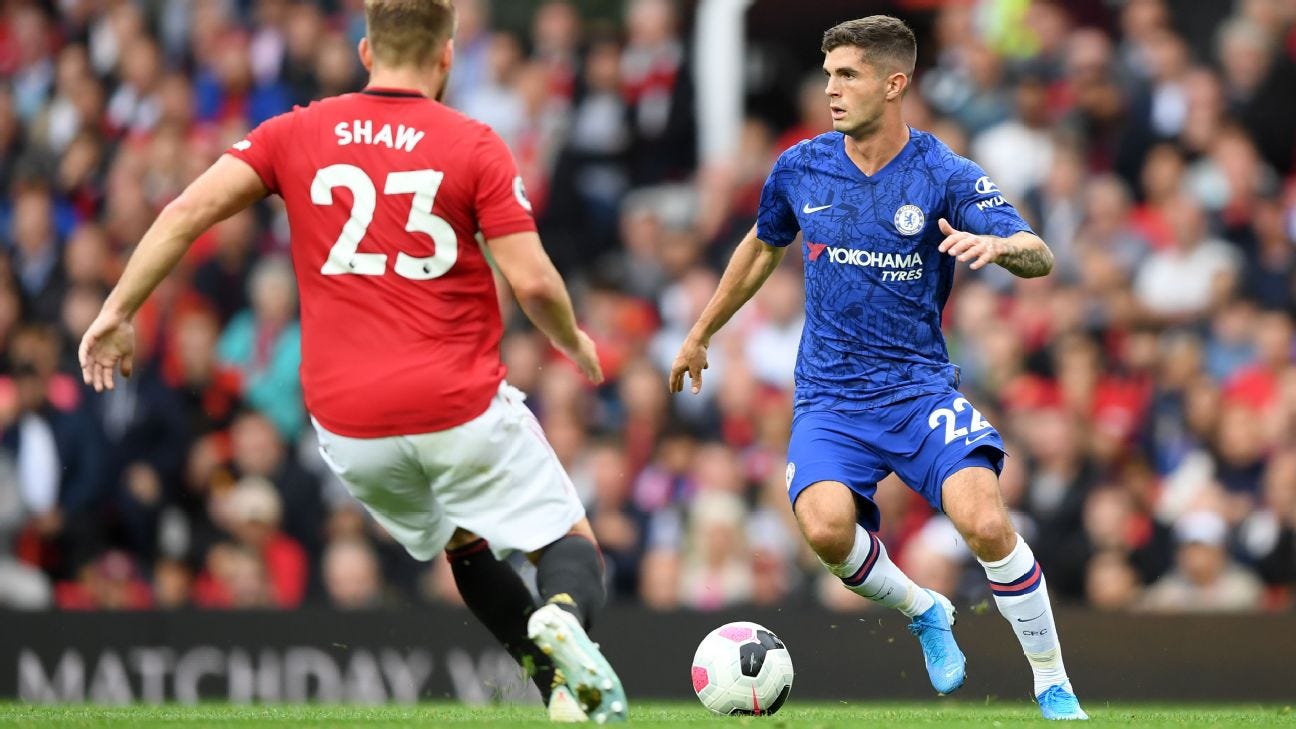 What really convinced me that Chelsea is the best club to support if you're trying to choose right now is realizing that they are loaded with young talent, and their new coach, Chelsea legend (he scored 211 goals for the Blues.. from the midfield!) Frank Lampard, does not seem afraid to actually play them. I know I'll lose most of you if I dive into the bios of multiple Chelsea players you've likely never heard of, but besides Pulisic, keep an eye on Tammy Abraham - look at this rocket he put off the post early in the game - Mason Mount, Ruben Loftus-Cheek, and Callum Hudson-Odoi. They are all England internationals, and the average age between the four of them is 20. Chelsea are the New Orleans Pelicans of the Premier League.
Last three points on why you should support Chelsea:
They are playing in the *Champions League this season, a privilege they share with only Liverpool, Manchester City, and Tottenham. Manchester United and Arsenal, along with the rest of the Prem, did not qualify.

They are based in London, so for Americans traveling overseas, Stamford Bridge (Chelsea's home) is a much easier stadium to travel to relative to Liverpool, Manchester, or any of the other cities and towns where Premier League clubs hail from. 

They aren't going to win the Premier League this year, and they probably won't win next year either, so you won't be accused of being a bandwagon fan. You can join towards the bottom, by their standards at least, and rest-assured you'll probably win a trophy sooner than later.
*I'll do a primer on the Champions League towards the end of the month before the competition kicks off in mid-September.
#3 - Highlights, and Quick Hits
The best goal scored in England this weekend didn't come from the Premier League, or the Championship (the second-tier league in England, just below the Prem). It came from League One (the third-tier league, below the Championship!) side Portsmouth. HERE is a link to the goal that Portsmouth's Ben Close scored on a volley from north of 30 yards out. 

While we're talking about Portsmouth for probably the first and last time in this newsletter, a fun fact about the club is that they are owned by American and former Disney CEO Michael Eisner, and one of his closest friends was at this particular highlight-worthy match on the coast of England. Click here and you'll surely recognize Eisner's friend from one of your favorite movies.

Manchester United's Paul Pogba, who I wrote about on Friday, did his best, "I am the best player on the field, and I am going to exert minimal effort but make 2-3 world class plays that make it impossible for my coach to bench me." impression once again, something we all got used to last season. 

HERE is the link to his first assist, an absolutely beautiful (and perfectly timed) long ball to Marcus Rashford for United's third goal.

HERE is the link to his second assist where he brought the ball the length of the field before setting up 21-year-old England international Daniel James with his first goal in a United shirt, on his debut appearance for the club.

For what it's worth, I love Paul Pogba (pictured below).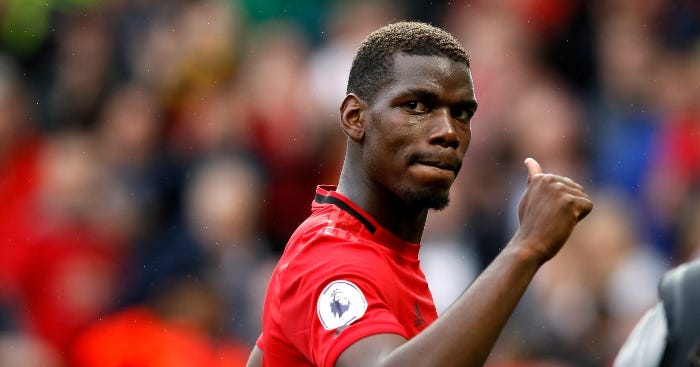 In the opening weekend for Ligue 1 in France, PSG beat Nîmes 3-0, with Mbappé scoring one goal and assisted on another. Results aside (I'm surprised they only won by two, and that Mbappé only scored once), the more interesting storyline around the Paris side continues to be the Neymar transfer saga. It seems pretty clear at this point that he's leaving the club within the next couple of weeks, but every other report from the press in France and Spain seems to oscillate between him joining Barcelona, his former club and desired landing spot, and Real Madrid, Barca's rival in Spain's La Liga, leading in the negotiations. I have to believe he'll end up in Barcelona, because that's what he wants, and just like the NBA, the player empowerment era has begun in the world of football. Either way, we'll know for sure by the end of the month.
That's it! Between now and Friday, there is a really compelling match being played in Europe, and while it is between two Premier League teams, it's not a Premier League match and it's not being played in England. On Wednesday at 3:00pm EST, Liverpool will play Chelsea in the "UEFA Super Cup" in Istanbul, Turkey. The Super Cup is a single-match competition (meaning the winner lifts a trophy) played between the winner of the previous seasons Champions League and Europa League competitions, respectively. Last year, Liverpool won the Champions League, and Chelsea won the Europa League. As mentioned, a primer on Champions League competition (with a few words on the Europa League competition) will be coming at the end of the month. If you find yourself in front of a TV, it'll be shown on TNT in the US on Wednesday afternoon.
Hope everyone has a great week. La Liga and the Bundesliga, the top flight leagues in Spain and Germany, respectively, kick off next weekend, so I'll touch on both in the Friday newsletter.