The Premier League Is Back
The most popular football league in the world starts their season today in England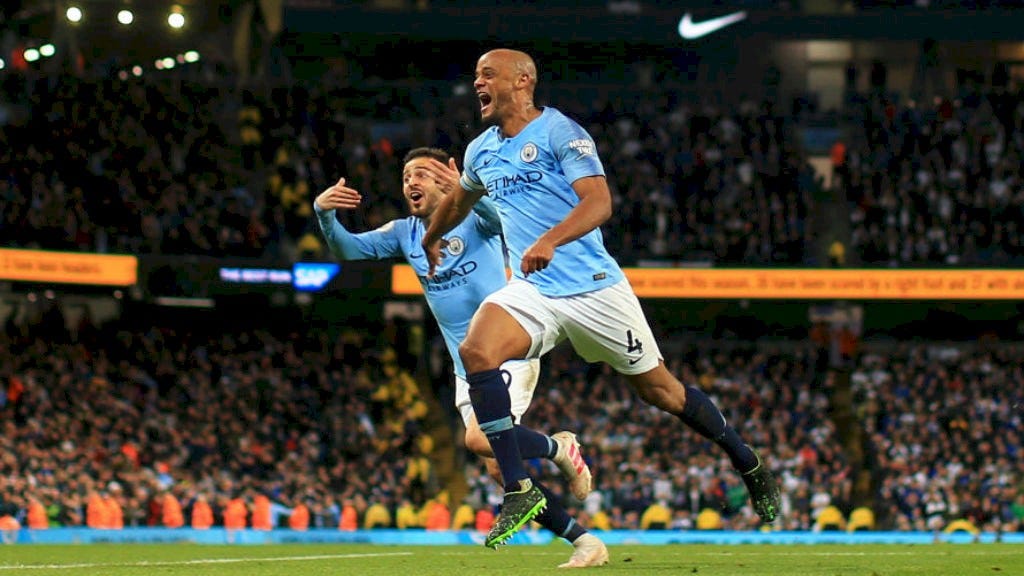 This is the first Friday edition of the '5 Minute Football Club' newsletter.
Here is a reminder of what '5 Minute Football Club' is all about: https://5minutefc.substack.com/p/about-5-minute-football-club
Before I get into it, I wanted to share a post I wrote earlier this week as a short guide to everything you need to know about the leagues and competitions I'll be covering each week. Unless you feel pretty well-versed in the high-level mechanics and nomenclature of European football (e.g. what a "table" is and who the "Big Six" are), I'd recommend giving it a quick read before diving into the newsletter: https://docs.google.com/document/d/1aMIkmFIg_UfUp8fZWPkFAO0PEjuhoxxb37CBb_xy5hY/edit
OK, here we go..
Today, the Premier League kicks off in England and Ligue 1 kicks off in France, and I've got three storylines for you.
#1 - The Premier League is Back
Last year, Manchester City won the Prem with 98 points, just edging out Liverpool, who earned 97 points. If you want to see the moment Manchester City effectively won the Premier League last May, watch (the entire) first minute of this highlight of Manchester City defender Vincent Kompany scoring a goal he had absolutely no business scoring to break a 0-0 stalemate in the 70th minute. After the match, Kompany's teammates admitted that they were even yelling, "Don't shoot! Don't shoot!" before he let it rip from just north of 25 yards out. Thankfully for City though, he did shoot, and it meant City took all 3 points in the match, winning 1-0, versus the 1 point they would have earned with a draw, all but handing Liverpool the title. That goal - Kompany's first and only goal of the season - that celebration, and that call from the broadcaster are what makes European football so special. Make sure you have the volume up high.
Manchester City and Liverpool are very likely to finish 1-2 in the table again, with the rest of the Big Six - Manchester United, Tottenham, Chelsea, and Arsenal - battling for 3rd and 4th place so they can qualify for a Champions League position in 2020. For an idea of how dominant City and Liverpool were last season, here is a snapshot of the top six positions in the table at the end of the season. Chelsea, who came in third, finished 25 points (!!) behind second place Liverpool. Points are in the last column on the right. It was City, Liverpool, and then everybody else. It wasn't even close.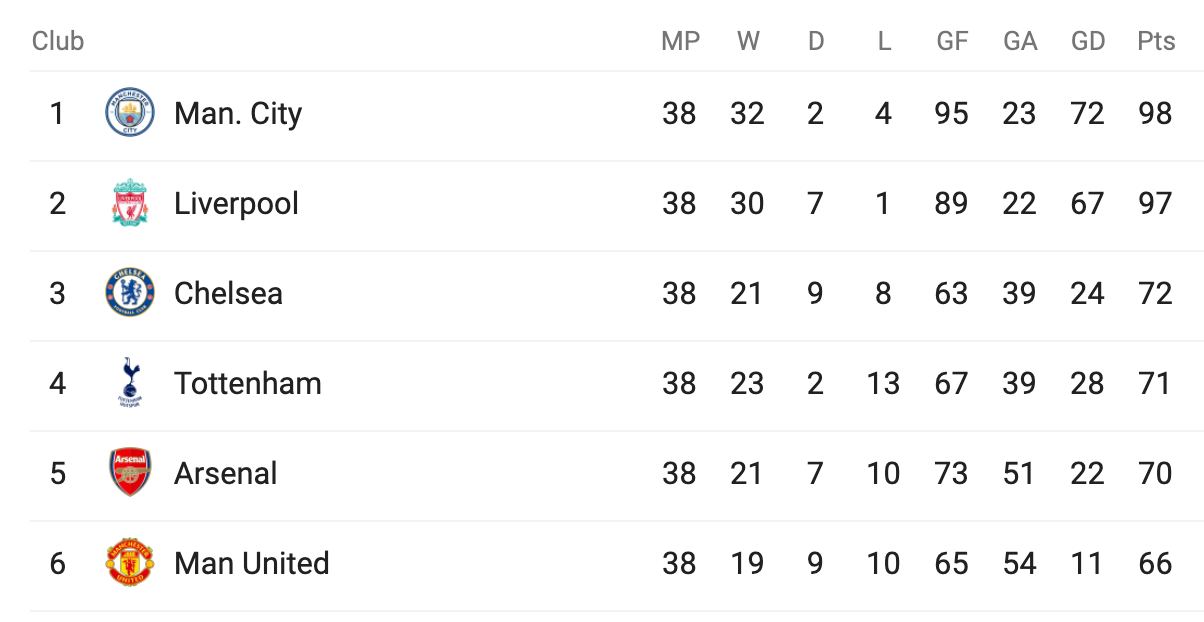 Liverpool open the season this afternoon at 3:00pm EST at home at Anfield (their stadium) against Norwich City, who they should absolutely smoke, while Manchester City travel to London for their opener against West Ham at 7:30am EST tomorrow morning. That one probably won't be close either. Both of these matches will be shown in the US on NBC Sports. I'll make my preseason prediction and say that I think Liverpool will win the league, with City coming in a close second, and then Tottenham, Arsenal, Chelsea and United rounding out the top six.
#2 - Manchester United vs. Chelsea
The best match this weekend is on at 11:30am EST on Sunday (also on NBC Sports in the US) when Chelsea travel to Old Trafford to play Manchester United. Given the very high expectations each of these clubs have for themselves, they both hope to improve upon their performance last season, but for Chelsea in particular that will be a tall order. Last season they came in third, but last month they lost arguably the best player in the Premier League, Eden Hazard, after 7 seasons with the club. You may remember Hazard from the Belgian squad he took to the World Cup semi-finals in Russia last summer, ultimately losing to France. He was by far the best player on Chelsea last year, scoring 16 goals - 8 more than their second leading scorer - despite largely playing from his natural position in the midfield. Real Madrid bought him for €100M last month, so he's off to Spain to play with a presumably much better club. In my opinion, Chelsea would be lucky to finish third again this season (and therefore remain in the Champions League by finishing in the top four), let alone compete with City and Liverpool for the top two spots.
Replacing Hazard at Chelsea, at least on the headlines in the US, is American Christian Pulisic. The 20-year-old Pulisic spent the last 4 years playing at Dortmund in the German Bundesliga before Chelsea paid €64M - a record transfer fee for an American player - to bring him to the London club. Pulisic is the centerpiece of the USMNT as we look ahead at the 2022 World Cup in Qatar and 2026 World Cup in the US, so finding success at a top European club like Chelsea, playing against the best in the world every weekend in the Prem, should provide Pulisic with invaluable experience to bring to the USMNT when their World Cup qualifying campaign kicks off. He's the player I would keep an eye on for Chelsea this weekend (assuming he starts or at least features for part of the match), and if you're a US soccer fan, all season.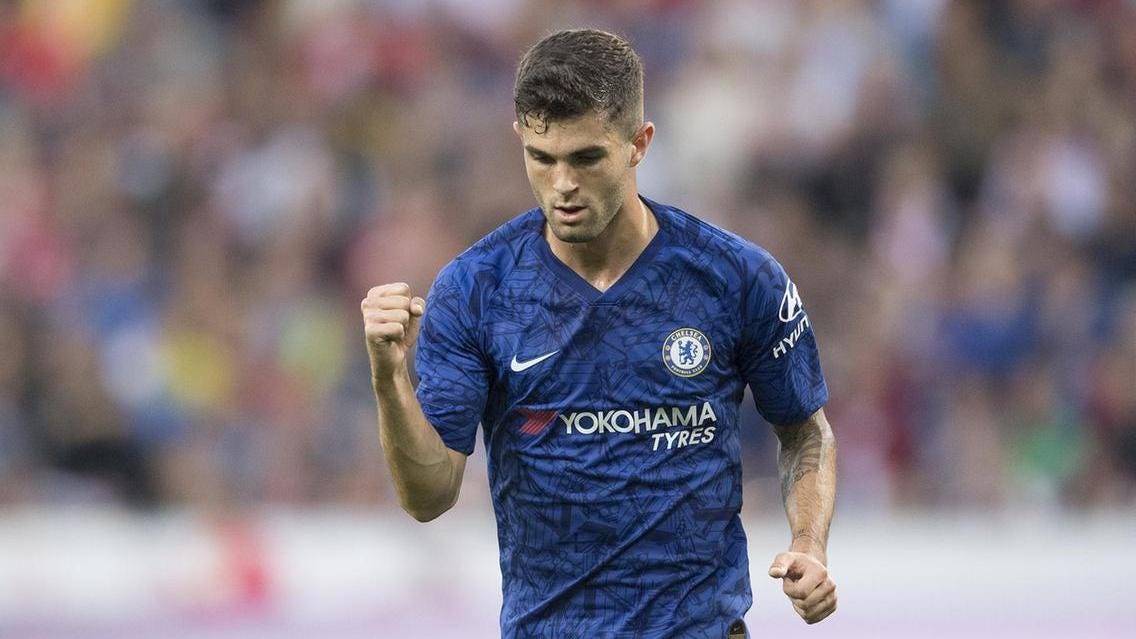 As for Manchester United, they just lost a Belgian star of their own, Romelu Lukaku, who was sold to Italian club Inter Milan yesterday for €74M. United came in sixth last season, meaning they will not be playing in the Champions League this year when the competition starts in September (I've mentioned the Champions League a few times now, and will be adding details of the competition to the "primer" I wrote before it starts). It was a hugely disappointing season, with their high-profile and often controversial coach Jose Mourinho getting sacked just before the halfway mark last December, and there is a lot of uncertainty around what to expect on the field from their best player, French midfielder Paul Pogba. He was not shy about wanting a transfer this offseason, which it doesn't look like he's going to end up getting, so it will be interesting to see how he plays (assuming he plays) on Sunday after an underwhelming campaign last season despite his tremendous talent. 
#3 - PSG, Kylian Mbappé, and Neymar 
I'll write about the Premier League far more often than Ligue 1 in this newsletter given its popularity in the US and competitiveness among the Big Six at the top of the table, but every now and then I'll write about France's Ligue 1 and it will almost always be about their best club, PSG. I'm assuming if you're a subscriber to this newsletter you're likely to have watched at least part of the World Cup in Russia last summer, which means you may remember France's 19-year-old star forward Kylian Mbappé, who became the first teenager since Pelé to score in a World Cup Final. Last year he had an incredible season for PSG, scoring 33 goals in league play, losing the Golden Boot award (given to the player in Europe with the most league goals each season) to Barcelona's Lionel Messi, who scored 36. On Sunday, PSG open their season against Nîmes at 3:00pm EST, which I mention not to encourage you to watch the match (it's on beIN Sports in the US, which you probably don't have), but because I will almost certainly be sharing a highlight of one of the multiple goals Mbappé will undoubtedly score against them in Monday's newsletter.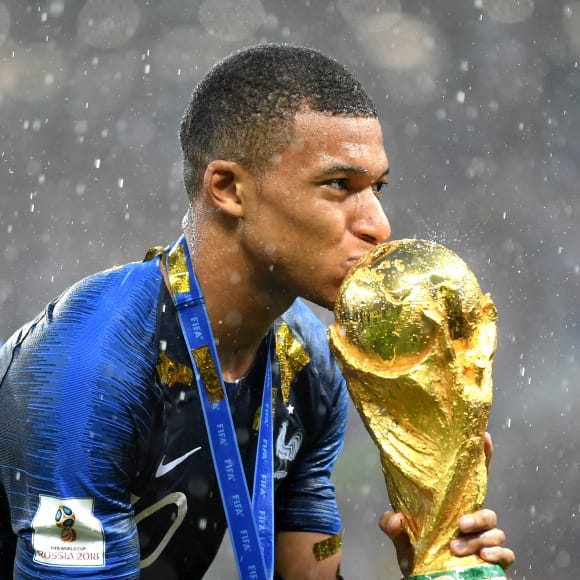 Another one of football's most exciting strikers, Brazilian superstar Neymar, has been Mbappé's partner in the attack at PSG since leaving Barcelona in the summer of 2017 for the Paris club. However, this summer he's taken a page straight out of the NBA free agency playbook and is demanding a transfer back to Barcelona, and refusing to practice or play until it happens. The Ligue 1 (and Spain's La Liga, where Barcelona plays) transfer market closes at midnight on Monday 9/2, so it will be interesting to see how this unfolds in the coming days and weeks, especially given rumors that PSG is trying to force a move for him to Real Madrid in exchange for a fee north of €100M and for their star Croatian midfield, Luka Modric. Real are obviously Barcelona's rivals in La Liga, so a move to Real would be soul-crushing for Barca supporters like me, but thankfully it doesn't look like Neymar wants to cooperate with any situation other than a return to what he calls his "home" in Barcelona.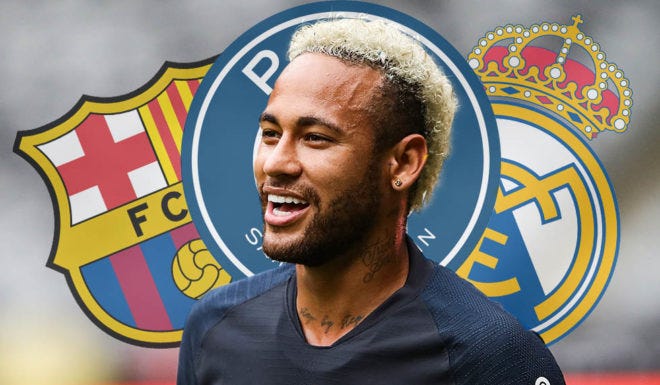 That's it. I hope you enjoyed the first newsletter. If you have any feedback, good or bad, I'd love to hear it. Also, if you have any friends you think would enjoy 5MFC, please forward this along!
The first Monday edition will include a recap of the major results this weekend, highlights of the best goals, etc.
Thank you, have a great weekend, and if you're not already, follow 5MFC on Twitter at @5MinuteFC!