Lucky Spurs, and Unlucky Champions
Tottenham got lucky (again), and none of the 2018-19 League Champs won this weekend.
A few people told me they would prefer I send the newsletter to start the week on Sunday night instead of Monday morning, so here it is. I appreciate everyone who's shared feedback, as well as everyone who's shared 5MFC on Twitter (@5MinuteFC) and with friends. This has been a lot of fun so far.
OK, here we go..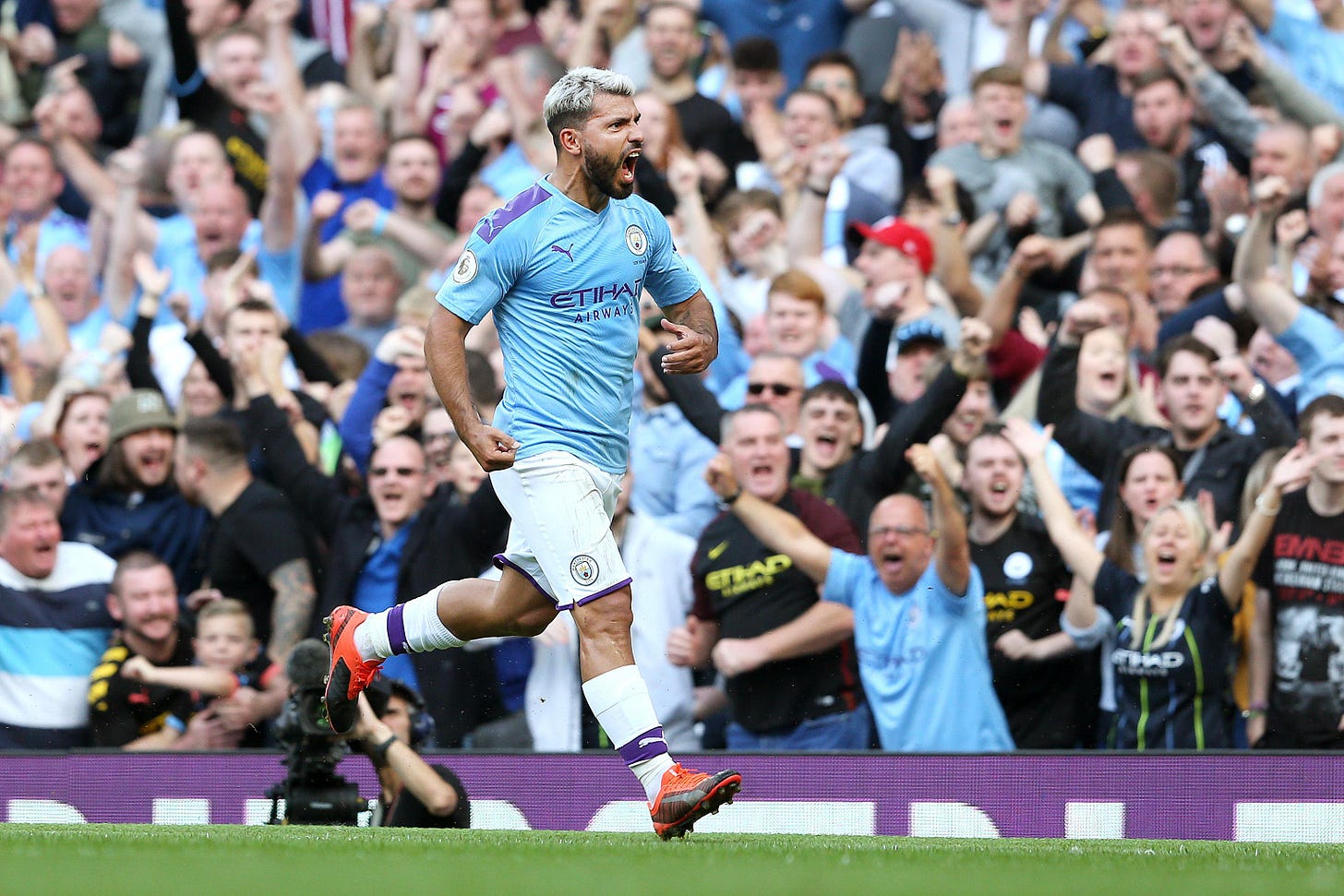 On Saturday in Manchester, Sergio Agüero (picture above) and the reigning Premier League champions all but dominated a Tottenham side that is widely considered the third best team in England. Manchester City controlled the game with 56% of the possession and took 30 shots, 10 of which were on target, dwarfing Tottenham's effort in the final third, with Spurs taking only 3 shots, 2 of which were on target. The only statistic that really matters though is goals, and both Manchester City and Tottenham scored two of them, with the match ending in a draw and both sides coming away with 1 point in the table. 
I wrote last week that it would take a healthy, "everything-goes-their-way" Tottenham side to compete with the powerhouse that is Manchester City, and on Saturday just about everything did go Spurs' way. They converted their only two shots on target to score two goals, and after it appeared as though Gabriel Jesus scored the winning goal for Manchester City in stoppage time, it was called back in controversial fashion for an innocuous handball, the game ending moments later with he and David Silva (pictured below) pleading with the ref.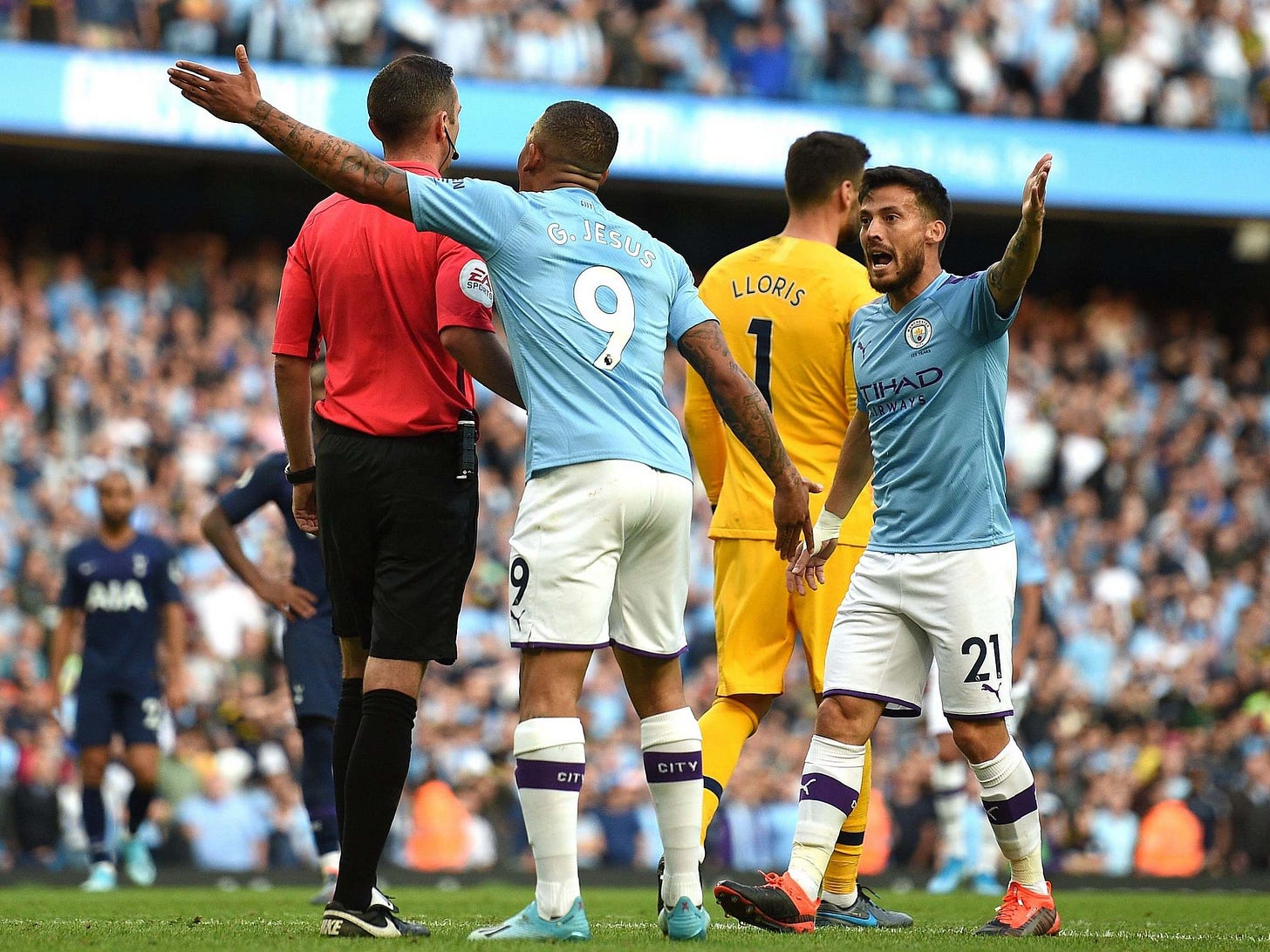 Like the call or not, it's hard to argue that the Premier League is more fun when there is more parity at the top of the table, so every point that clubs like Manchester City and Liverpool *drop, the better. Seeing teams like City streamroll everyone they face just isn't as fun.
*To "drop" points means a club did not win their game and earn all 3 possible points, instead earning 1 point for a draw or 0 for a loss. Points add up in the table to determine a clubs ranking in their respective league. If you need a refresher on terminology, etc. (including what a "table" is) in European football, read THIS primer!
Results and Highlights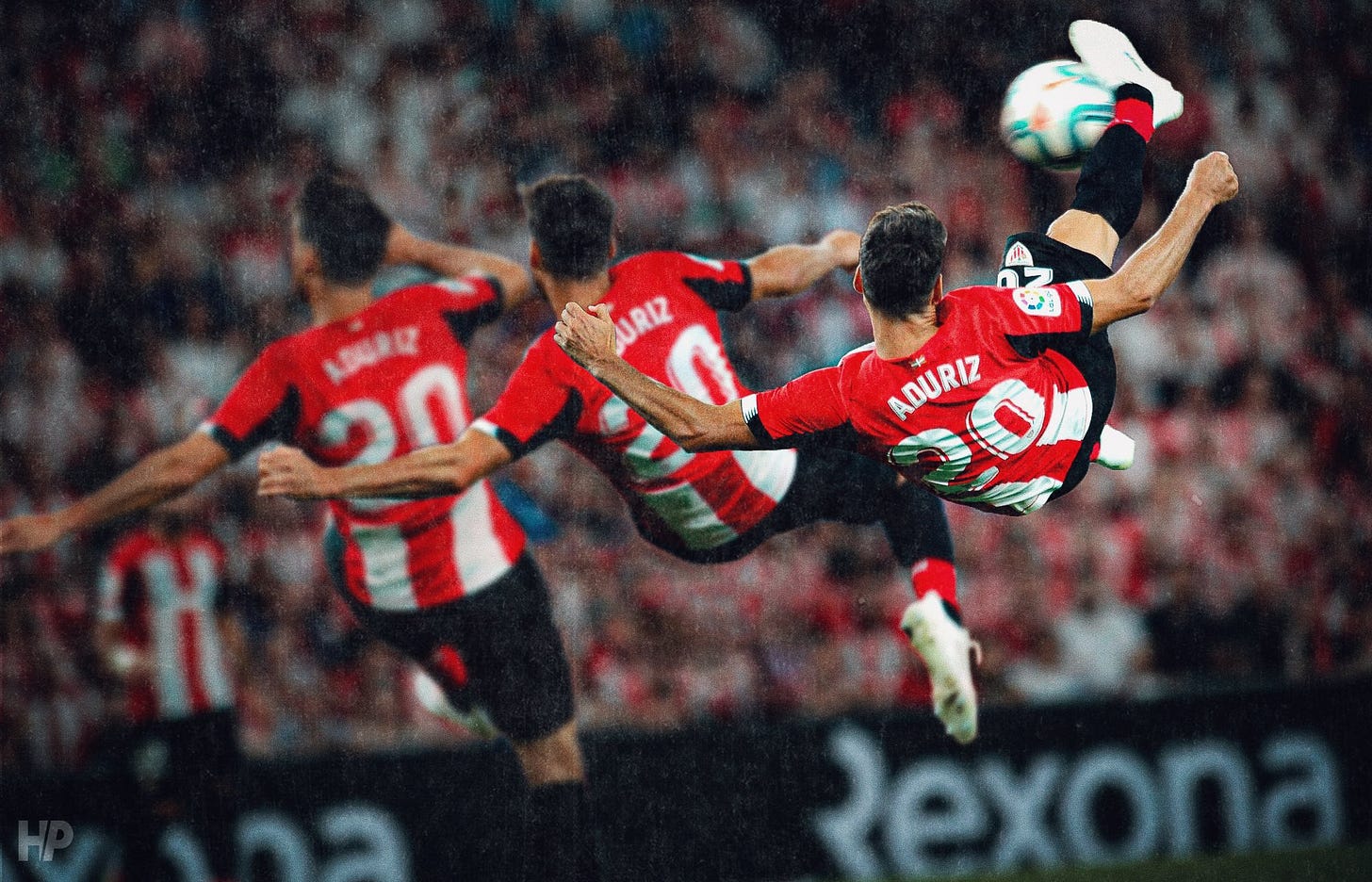 Unfortunately for me, the best goal of the weekend was scored against Barcelona by the gentleman pictured above. In the 88th minute, with the game tied 0-0, Athletic Bilbao subbed in their 38-year-old striker Aritz Aduriz. If you search Aduriz's name on Google, the Wikipedia preview reads:
Aritz Aduriz is a Spanish professional footballer who plays for Athletic Bilbao as a striker. Known for his aerial ability and first touch, he spent most of his career with Athletic Bilbao, scoring over 150 goals across all competitions for the team.
"Known for his aerial ability and first touch.." OK, now watch this goal he scored in the 89th minute (with your sound on), 1 minute after he was subbed in, to win the game at the death against the champions of La Liga, Barcelona. Holy shit is right.
Unfortunately for me (again), the second best goal of the weekend was scored by Barcelona's rival, Real Madrid, in their season opener against Celta Vigo. Los Blancos (Real Madrid) cruised to a 3-1 win, highlighted by an absolute rocket of a goal by their German midfielder Toni Kroos (pictured below, to the left, beside Gareth Bale). Once again, I'd recommend watching with your sound on. The beIN Sports announcers are awesome.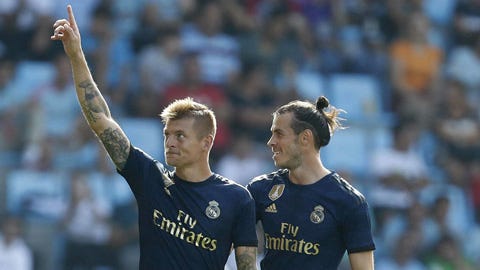 Back to the Premier League. Besides the 2 - 2 draw between Manchester City and Tottenham, there weren't a whole lot of surprises across the rest of the Big Six or league as a whole.

Arsenal beat Burnley 2 - 1 at home.

Liverpool beat Southampton 2 - 1 on the road.

Chelsea drew Leicester City 1 - 1 at home. (This was a disappointing result for Chelsea, especially given they were playing in front of their home crowd at Stamford Bridge.)
As for Premier League highlights:

The runner-up for me in the Prem was Aston Villa's Brazilian midfielder Douglas Luiz's goal from way, way outside the box. It was a consolation prize given his side fell to Bournemouth 2 - 1 in the end, but an incredible goal no less.

Back to the game of the weekend between Manchester City and Tottenham. Down 2 - 1 in the second half, Spurs subbed in their Brazilian forward Lucas Moura. Seconds (not minutes, seconds) later, he connected on one of only two corner kicks Tottenham had all game with a header to tie the game up at 2 - 2. He is pictured below to the left, celebrating his equalizer.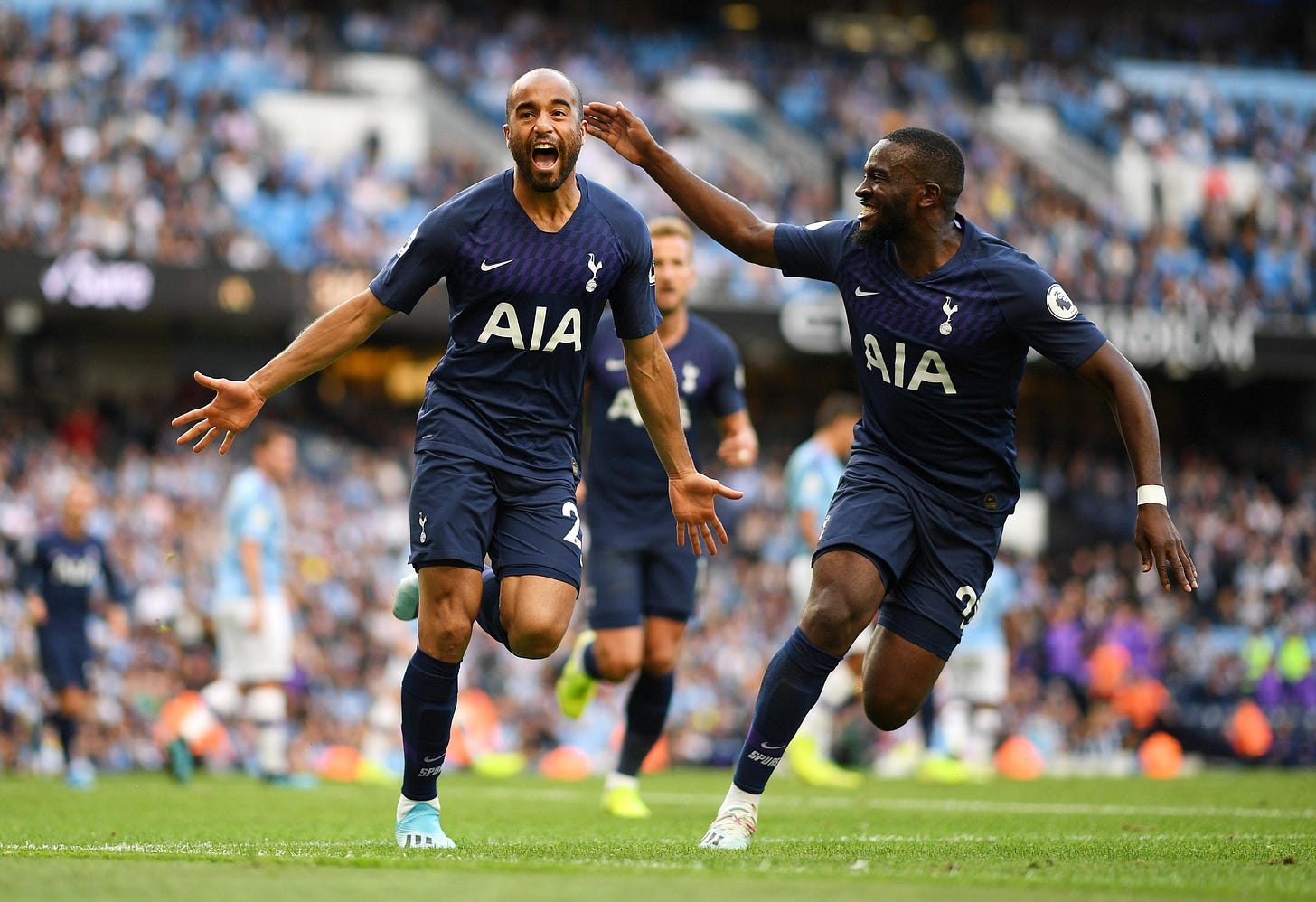 In Germany's Bundesliga, Bayern Munich drew Hertha at home 2 - 2 in their season opener, while Dortmund, also at home, got off to a much better start and thrashed Augsburg 5 - 1. Over in France's Ligue 1, PSG stumbled in their second game of the season, falling to Rennes 2 - 1 on the road. Oddly, the former champs in all four top flight leagues in action this weekend were held winless: Man City drew, Barcelona lost, Bayern drew, and PSG lost. That probably won't happen again!
I'll start including a snapshot of the top of the Premier League table (and sometimes, a snapshot of the top of the table in La Liga, Bundesliga, etc.) in the newsletter at the start of the week since teams are starting to separate.
Looking ahead, there is actually a Premier League match on tomorrow (Monday) afternoon at 3:00pm EST when Manchester United travel to play the Wolverhampton Wanderers (aka "Wolves") so we'll see if United can keep the momentum up after their 4 - 0 win over Chelsea last weekend to open the season. If they win tomorrow, they will jump up to the top of the table (below) beside Liverpool and Arsenal with 6 points.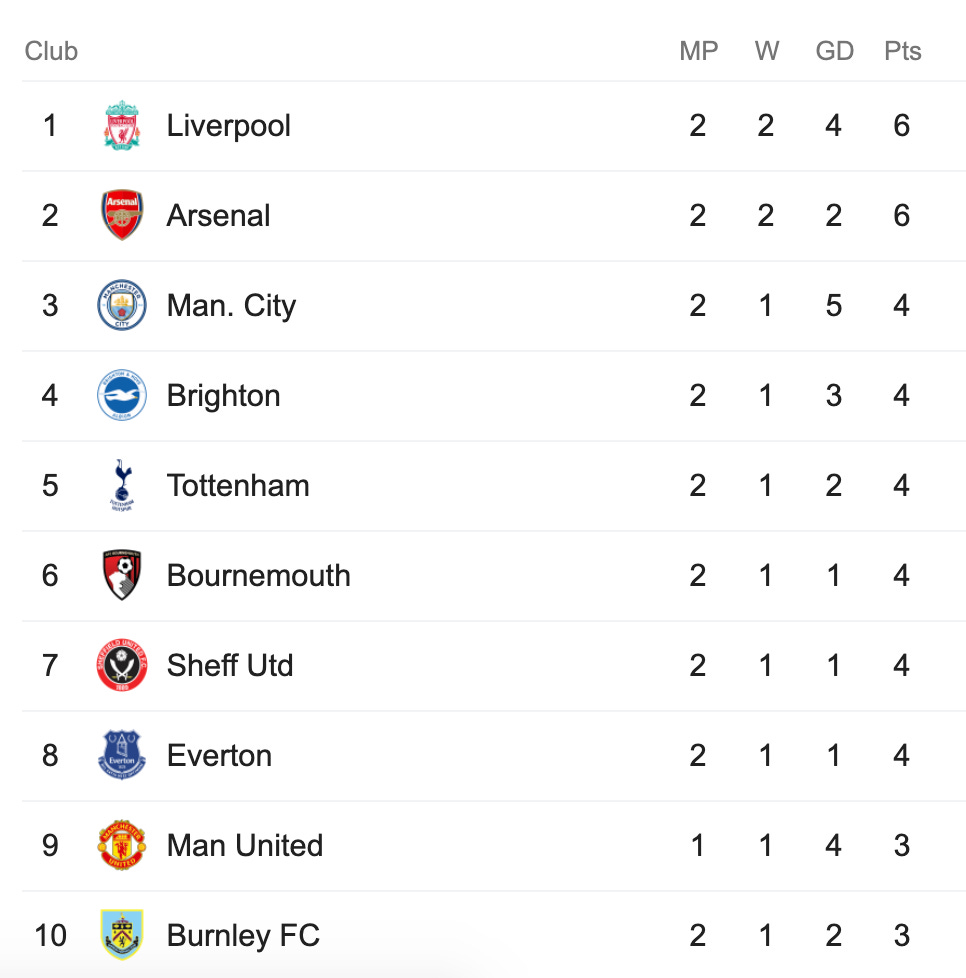 Table Key:
MP - Matches Played
W - Wins
GD - Goal Differential is the total number of goals scored by a team minus the total number of goals scored against a team, e.g. Liverpool won their match last weekend 4 - 1 and this weekend 2 - 1, so they have 6 "goals for" and 2 "goals against" meaning their goal differential is 4 (6 - 2 = 4).
Pts - Points!