The Neymar Comeback Tour Continues, and a 5MFC Update!
Also, a look at the last two weeks in the Premier League and La Liga.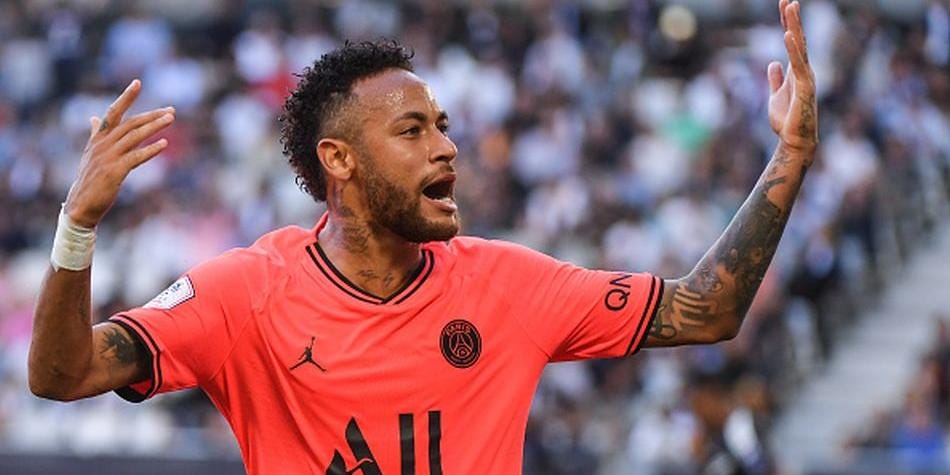 In the last edition of the 5MFC newsletter (published two weeks), I wrote about how Neymar had finally returned to PSG after a failed attempt at a move back to Barcelona ahead of the transfer deadline. To recap, having sat out the first four games of the season, the Brazilian finally made his debut for the defending Ligue 1 champions in front of a home crowd in Paris that littered him with boos from the moment he stepped onto the pitch. However, as Neymar knows (he's said it himself in interviews), scoring goals and winning games heals all wounds, and he began his campaign to win back the fans in spectacular fashion, finishing a half bicycle kick in stoppage time to beat Strasbourg 1 - 0 and collect all 3 points on the table.
That debut — coupled with a game-winning goal — was two weeks ago. Since then, here's how Neymar and PSG have fared: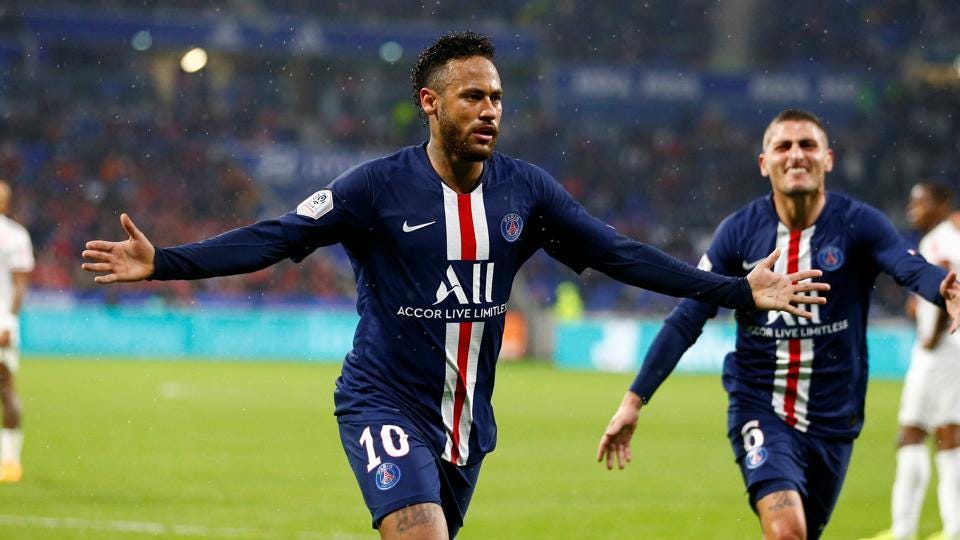 Ultimately, PSG are supposed to dominate the league in France and scoring three goals in four games is beyond underwhelming by club standards (especially considering they lost one of those games, and at home no less), but Neymar has to feel good about being the man behind all three of their goals and therefore all three of PSG's wins since returning to the squad. That said, he knows what PSG fans really want to see from him, and that's excellence in Europe on the grand stage of the Champions League. Neymar and co. are slated to travel to Spain and play Real Madrid in late November, so he can score as many goals as he'd like in France between now and then, but he will be judged first and foremost by his performance in Europe against clubs like Madrid. It is for those matches why PSG made him the most expensive player in world football in the summer of 2017 when they bought him from Barcelona, so he'll have to wait until that opportunity presents itself in two months — and then capitalize on it — to be fully embraced again by the Parisian ultras.
The Premier League, Two Weeks Later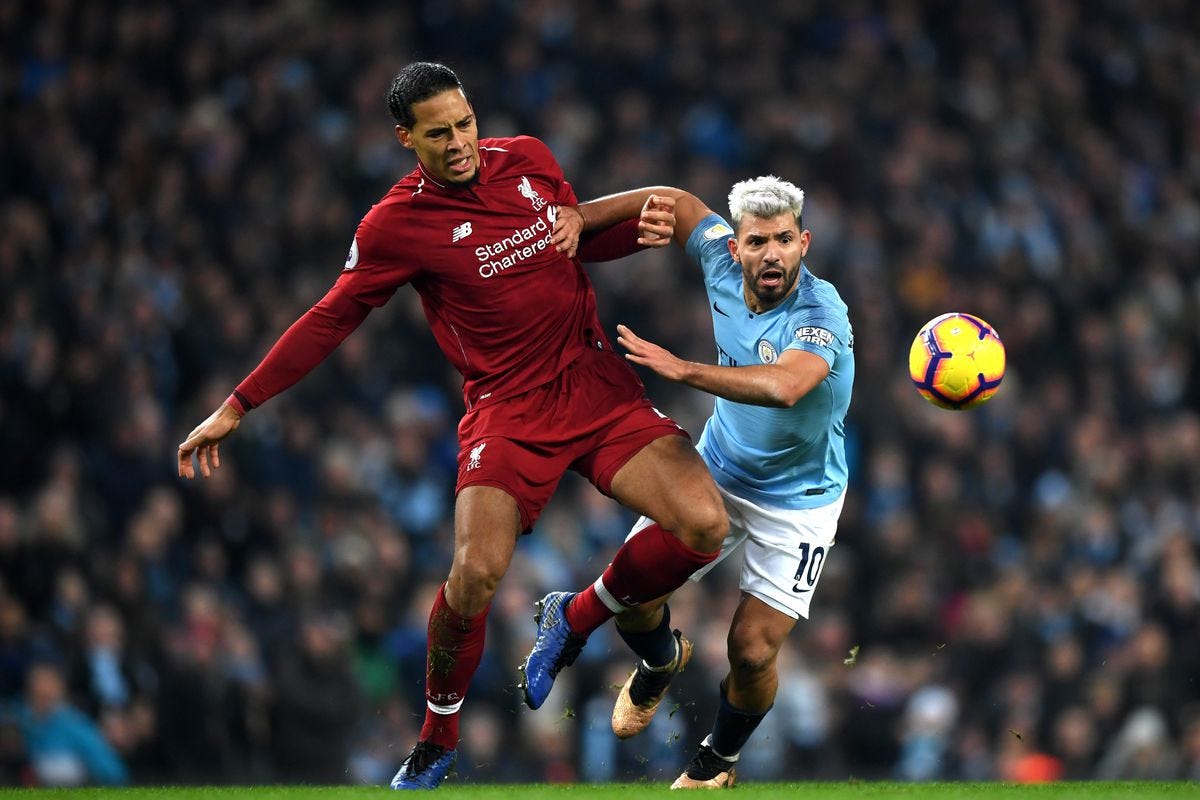 Not much as changed at the top of the Prem in the last two weeks…
Liverpool extended their winning streak to seven straight to start the season, beating Chelsea last weekend 2 - 1 on the road in London and edging past Sheffield United 1 - 0 at home this past Saturday. Two more wins keep Virgil van Dijk (pictured above, left) and the Reds alone atop the table in first place with 21 points.
Sergio Agüero (pictured above, right) and Manchester City have bounced back after their embarrassing 3 - 2 loss to newly promoted Norwich City two weeks ago by absolutely dismantling Watford in an 8 - 0 drubbing last weekend at home, followed by a 3 - 1 win on the road Saturday against Everton. City are alone in second place with 16 points (5 behind Liverpool).
As for the rest of the Big Six…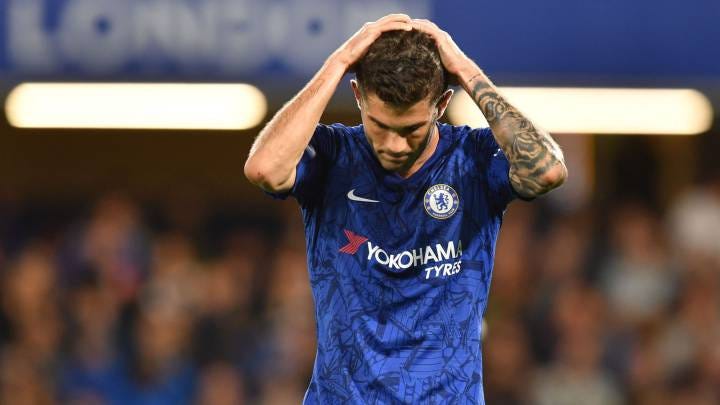 Despite losing 2 - 1, Chelsea impressed against Liverpool at home last weekend in a match that could ended in a draw had Chelsea finished just one of a couple high-quality chances they created in the second half. Chelsea were at home again this weekend, beating Brighton 2 - 0 to collect all 3 points.
One Chelsea storyline to keep an eye on in the coming weeks is American Christian Pulisic's playing time. The 21-year-old winger (pictured above) hasn't played a minute for the Blues in Premier League play since August 31st, riding the bench in all three of their last matches.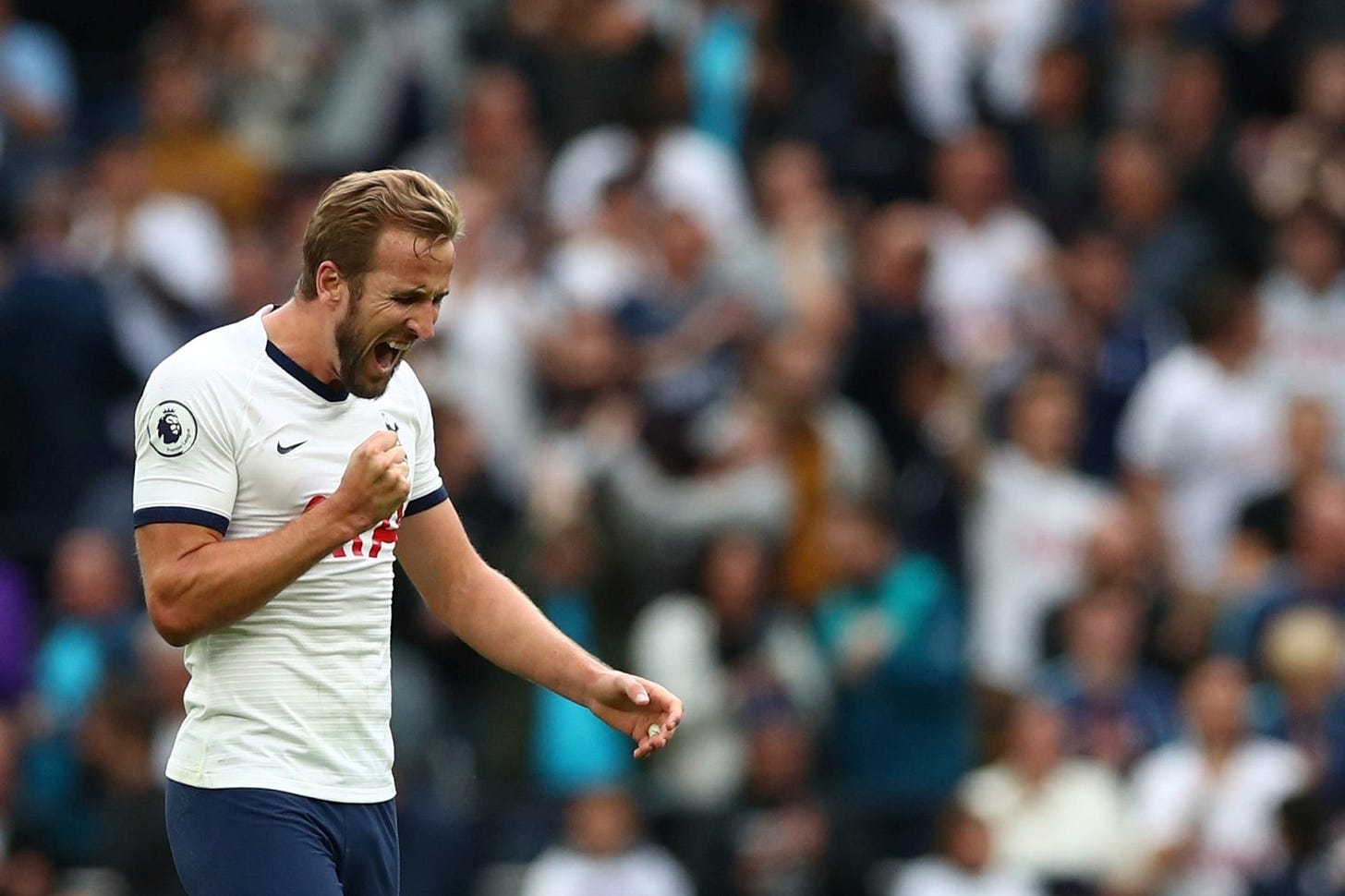 Tottenham lost last weekend 2 - 1 on the road against Leicester City after scoring the first goal of the game, but just like Chelsea, managed to bounce back and win at home on Saturday, beating Southampton 2 - 1. Spurs have been unable to win two games in a row this season in the Prem, but on the plus side, Harry Kane (pictured above) was responsible for two of their three goals scored against Leicester and Southampton, his first non-penalty kick goals since the first match of the season in early August, so it looks like the star striker may be starting to find his form two months into the season.
Manchester United, plagued by injuries (Paul Pogba, Marcus Rashford, Anthony Martial), lost 2 - 0 on the road against West Ham last weekend and face Arsenal today (Monday) in a Big Six clash at home at Old Trafford. Where the goals will come from is the big question for United, and given the opposite is true for Arsenal (they have a lot of firepower up front), I would expect United to fall pretty easily in this one, even despite the home field advantage.
Arsenal, playing with 10 men (due to a red card) for most of their game against Aston Villa last weekend found a way to come from behind and win 3 - 2 in front of their home crowd. They will hope to take advantage of United's shaky start to the season and slew of injuries mentioned above in their match against the Red Devils in Manchester today, knowing a win will lift them to third place in the table, tied with Leicester City at 14 points apiece.
Here's a look at the table at it stands, though note the 3 points up for grabs between Manchester United and Arsenal in tomorrow's fixtures will move things around a bit. That one will be on in the US at 3:00pm EST (on NBC) this afternoon.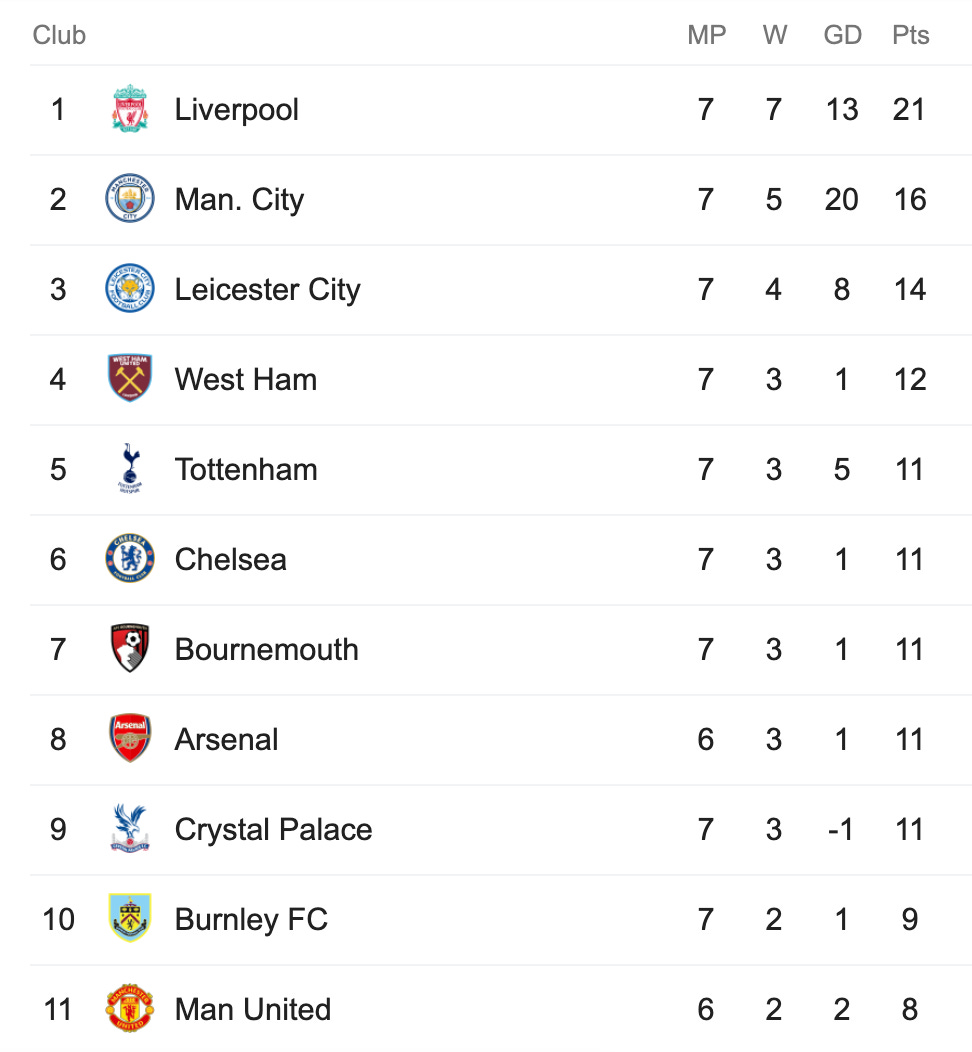 A Few Words on La Liga
We're seven matches into the La Liga season and the only thing that's clear is that the three perennial powerhouses in Spain — Barcelona, Real Madrid, and Atlético Madrid — are all collectively vulnerable for the first time in years.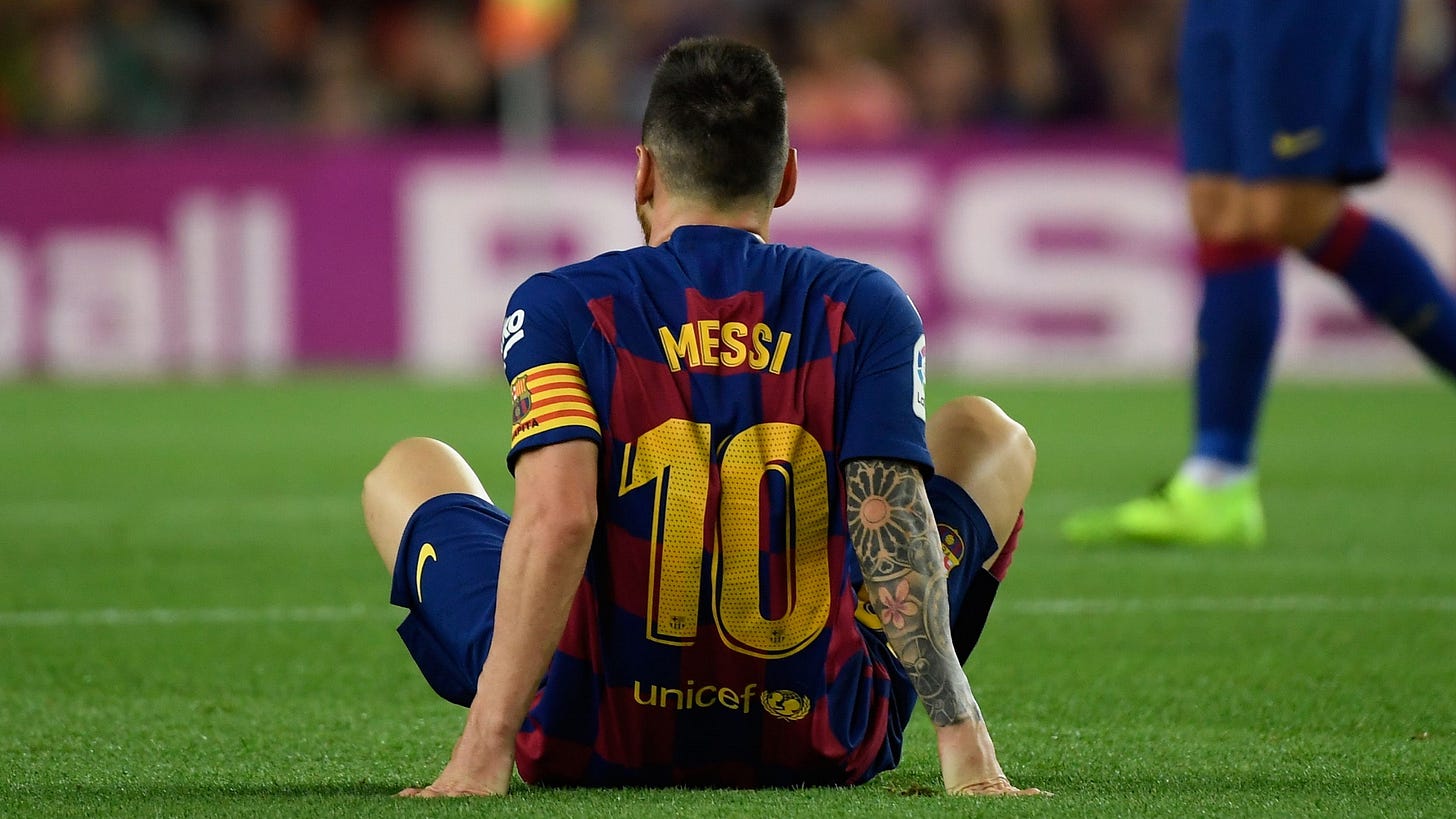 Last weekend, after a 2 - 0 loss on the road against newly promoted Granada, Barcelona supporters had legitimate cause for concern after the club failed once again to win a match away from home, something that was emerging as a bit of a trend having failed three times in three attempts to start the season. A couple of days later, things were looking up as Lionel Messi (pictured above) returned from an injury he picked up in preseason to make his first start of the season, quickly assisting on the opening goal for the Blaugrana at home against Villarreal. Unfortunately for Barcelona, that bright spot quickly vanished as Messi reinjured himself and didn't return to the pitch for the second half. They still ended up winning that game 2 - 1 and even managed to break their winless streak on the road by defeating Getafe this past Saturday 2 - 0, but lingering injuries to Messi (and fellow goal-scorer Ousmane Dembélé) have cast an air of uncertainty over the defending La Liga champs.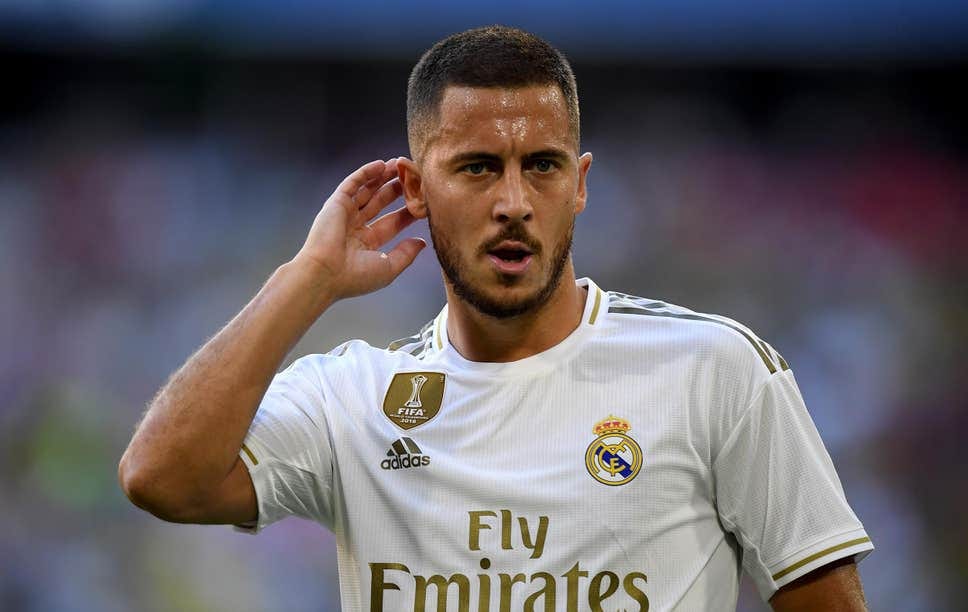 As for Real Madrid, their struggles may be harder to decipher from the score lines in La Liga as they followed up on a 3 - 2 win at home over Levante two weeks ago with an impressive 1 - 0 win on the road against Sevilla, something they hadn't achieved in their last four attempts over the years. Madrid then returned home to host Osasuna, defeating them 2 - 0, and then drew Atlético Madrid in the Madrid derby yesterday at the Wanda Metropolitano, Atlético's home stadium in the capital.
So what's wrong with Real Madrid? Any Madrid fan would tell you two weeks ago that three wins out of four — including one on the road against Sevilla — and then a draw against Atlético at the Wanda is a string of results they would take any day in La Liga, but it's hard to ignore their first Champions League match of the season that they played a week and a half ago against PSG. I'm breaking my own rules a bit as I haven't written about the Champions League in detail yet in this newsletter (and didn't mention this match at all when discussing Neymar and PSG at the top of this edition), but Real traveled to Paris to play a PSG side unable to feature their two best players — Neymar, who is facing a two-match Champions League suspension, and Kylian Mbappé, who was still recovering from injury — and got annihilated 3 - 0 without putting a single shot on target. Madrid pride themselves on their Champions League prowess, having won the competition in 2016, 2017, and 2018 (three years in a row!), and that kind of performance is troubling to say the least. Lastly, their blockbuster summer signing, Belgium international Eden Hazard (pictured above), has struggled to find his form thus far this season, playing poorly against both PSG and Atlético Madrid, the two best sides they have faced so far this season and the kind of clubs they'll meet regularly (and therefore have to beat regularly) as the Champions League competition progresses from the Group Stages this fall.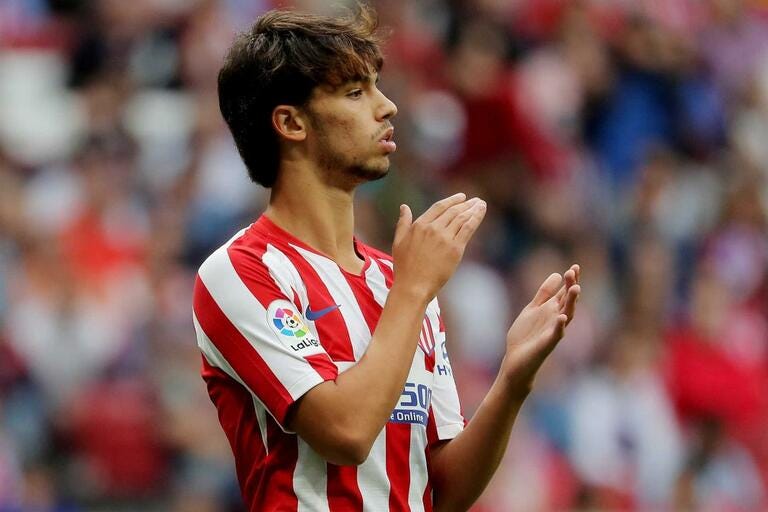 As for Atlético Madrid, after winning the first three matches of the season and enjoying a spot alone at the top of the La Liga table after three weeks, they have started to lose ground after losing 2 - 0 to Real Sociedad on the road, drawing 0 - 0 to Celta Vigo at home, beating Mallorca 2 - 0 on the road, and drawing Real Madrid 0 - 0 at home. One win in four matches after starting the season so strong is bad, but scoring only two goals in four matches is worse. Atlético's always been known for finding a way to win despite taking far fewer shots than most top teams (and therefore scoring far fewer goals) and relying on a great defense and opportunistic counterattack, but their attack, led by the highly touted 19-year-old Portuguese international João Félix (pictured above), need to start finding the back of the net if they want to compete for the top spot in Spain.
'5 Minute Football Club' Update
As much as I enjoy writing this newsletter, I've realized it's just not possible for me to stick to a cadence of publishing every Friday morning and Sunday night (or Monday morning) given my job, among other responsibilities that take priority, and the fact that I never want this to ever feel like work, so expect the newsletter to come more sporadically in the coming weeks and months.
Further, besides my obvious focus on on the Premier League — and especially the Big Six given their mainstream popularity in the US — you'll notice I will continue to write most often about the big clubs in Spain's La Liga (Barcelona, Real Madrid, and Atlético Madrid) given I am a Barcelona supporter and therefore follow La Liga particularly closely, as well as PSG in France's Ligue 1 given they are home to two of the most exciting players in the world, Neymar and Kylian Mbappé. I'll sometimes cover other leagues (including Germany's Bundesliga and Italy's Serie A), clubs (especially Bayern Munich and Juventus), and players (Ronaldo's still playing at 34!), but ultimately I am going to write about what's easiest and most fun for me, and that's what I actually watch on TV and read about online.
Lastly, I will (finally) be getting a Champions League primer out soon so I can start writing about it more.
As always, feedback welcome!