Discover more from 5 Minute Football Club
Newsletter recapping the week in European football in 5 minutes or less for the exceptionally casual fan.
Arsenal visit Anfield, Neymar's Future, and Juventus' Season Starts
Also, why both Barcelona and Chelsea need to win this weekend.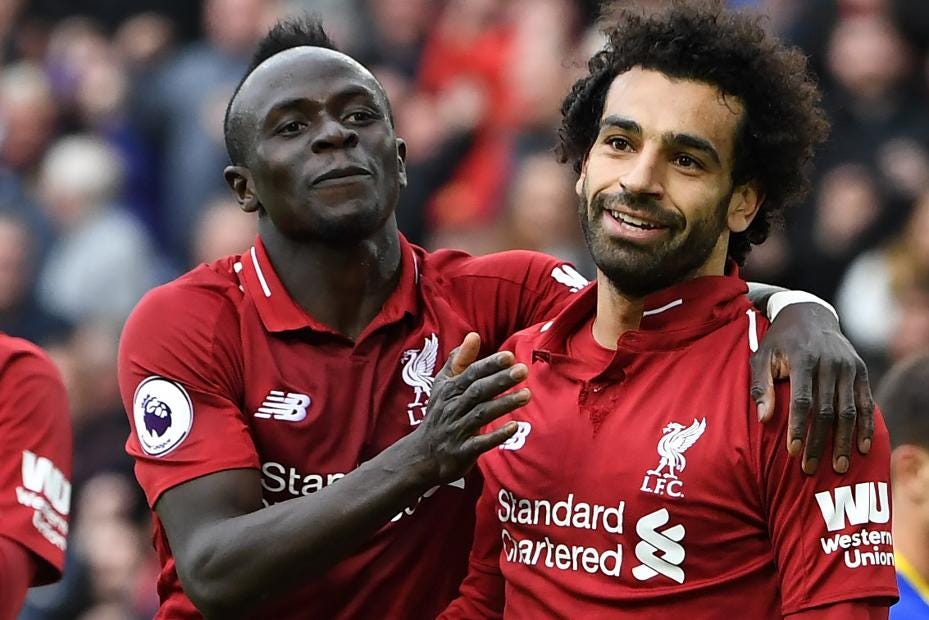 The Premier League's "Golden Boot" award goes to the leading goalscorer each season. Last year, three players shared the award, scoring 22 goals each:
Liverpool forward Sadio Mané (above, left)

Liverpool forward Mohamed Salah (above, right)

Arsenal forward Pierre-Emerick Aubameyang (below, left)
On Saturday afternoon, Mané and Salah will host Aubameyang and his running mate in the Gunners attack, Alexandre Lacazette (below, right), as Liverpool and Arsenal face off at Anfield. It may only be the third match of the season, but these are the only two teams in the Prem to have won their first two games, meaning they sit together atop the table at 6 points apiece.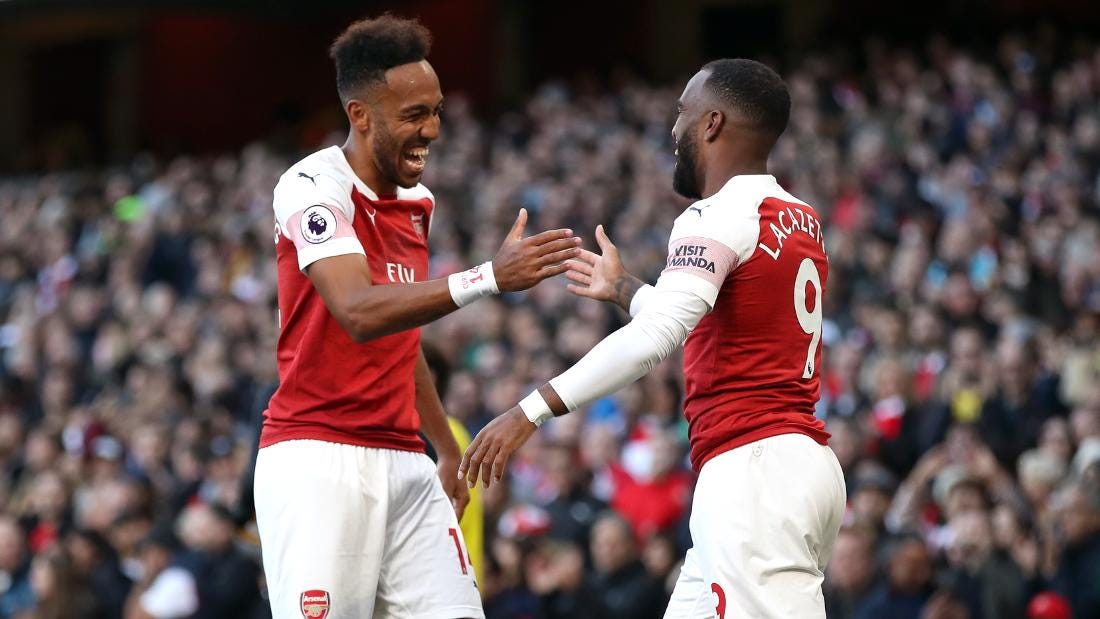 When Arsenal traveled to Anfield last season, they were embarrassed by the Reds, suffering a 5 - 1 defeat which featured a hat trick from the third member of Liverpool's attacking trio, Brazilian Roberto Firmino.
The hosts are heavy favorites tomorrow and should win comfortably, but they also showed some weaknesses in their UEFA Super Cup match against Chelsea a week and a half ago that Arsenal will hope to exploit. This is Liverpool's first real test in the Prem this season (no offense to Norwich City or Southampton), and Arsenal have what Chelsea lack, which is a potent attack led by Aubameyang, Lacazette and their newest signing, Ivory Coast international Nicolas Pépé.
This is the match to watch in England this weekend, and it will be on at 12:30pm EST tomorrow on NBC.
Four Storylines from around Europe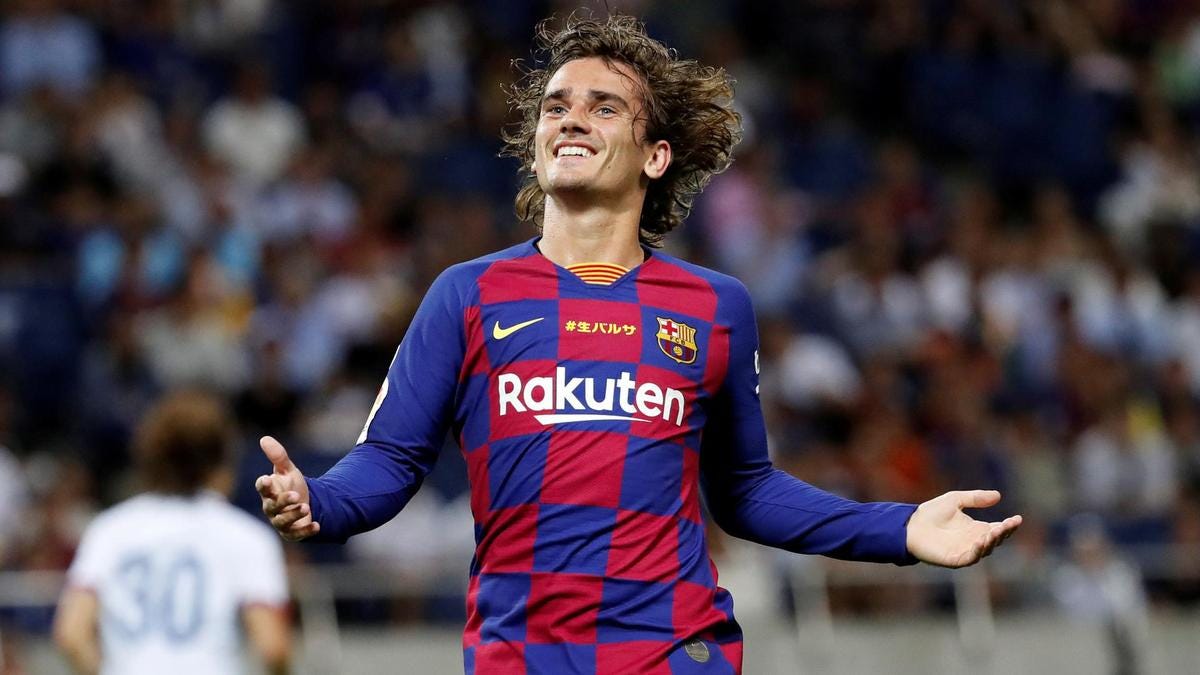 In Spain's La Liga..

Barcelona will be eager to get back on track Sunday when they host Real Betis after suffering a loss in their first match of the season for the first time in over a decade last weekend. The La Liga champs are dealing with multiple injuries in their attack (Lionel Messi, Luis Suarez, Ousmane Dembélé) and will be relying on their blockbuster summer signing, French international Antoine Griezmann (pictured above), for production up front.

The margin for error at the top of La Liga is typically razor thin between Barcelona, Real Madrid, and Atlético Madrid, and given both Madrid clubs won their respective season openers last weekend and are heavy favorites to repeat this weekend, anything other than a win for Barcelona will be cause for chaos in Catalonia.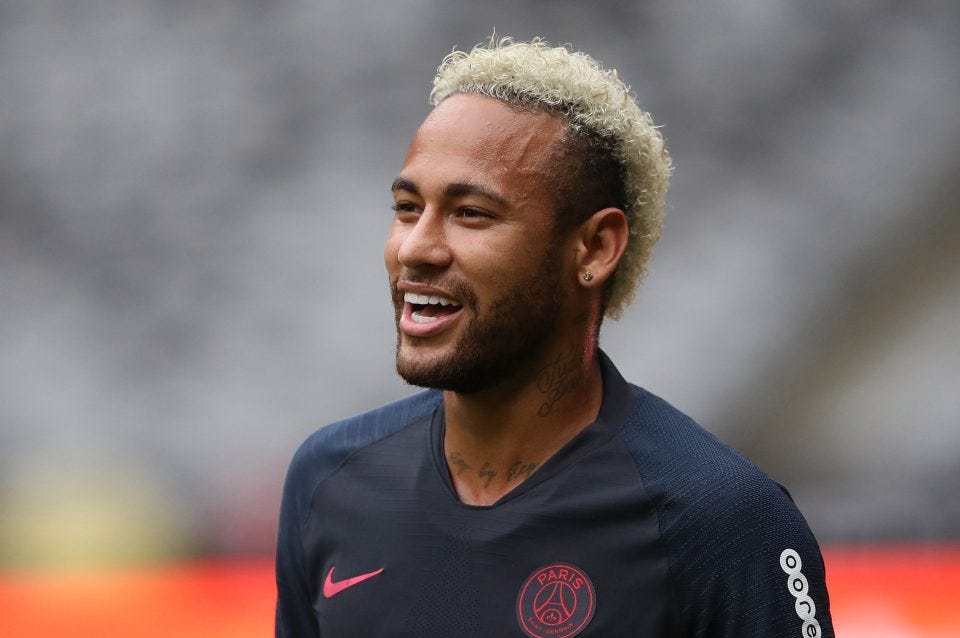 Neymar..

I wrote about the Neymar transfer saga in my debut newsletter two weeks ago, and while the future of the Brazilian superstar (pictured above) has been up in the air for months now since demanding a transfer away from PSG and subsequently not showing up to train (let alone play) with the club, reports out of Spain yesterday indicate we'll know his fate by the end of the weekend. Barcelona are still frontrunners to sign the forward as Neymar continues to indicate they are the only club he's interested in, but Real Madrid and Juventus are both allegedly still in the mix. If Neymar's future hasn't been sealed by PSG's match on Sunday against Toulouse and they somehow manage to lose their second game in a row, it will be interesting to see if PSG attempt to reconcile the relationship with their talisman.

Italy's Serie A is back..

The top flight league in Italy kicks off this weekend which means all of the best clubs (and best players) in Europe are now officially in action. In Italy, similar to PSG in France and Bayern Munich in Germany, the league is dominated by Juventus. Juve have won the title 35 times - including the last eight years in a row - and feature one of the greatest players of all-time in Portuguese international Cristiano Ronaldo (pictured above). Ronaldo spent nine years at Real Madrid before leaving for Juventus last summer, and even at 34 years of age managed to score 31 goals in his debut season for the Italian club. Juventus open their season on the road tomorrow against Parma at 12:00pm EST. You can watch the match (and all Serie A fixtures) on ESPN+.

Chelsea on thin ice..

Liverpool's match against Arsenal will dominate the headlines in England this weekend.. unless Chelsea fail to beat Norwich City tomorrow. The Blues, under new manager and Chelsea legend Frank Lampard (pictured above with Tammy Abraham), have only earned 1 point thus far this season after losing to Manchester United on the road in their first match of the season and drawing to Leicester City at home last weekend. Chelsea are still adjusting to having lost their best player this summer (Eden Hazard) to Real Madrid and are opting to play a lot of their young talent (like American Christian Pulisic), but at some point they need to start winning. Tomorrow's match against newly promoted side Norwich City is that point, and anything other than a win earning them all 3 points will officially spell a disaster start to the season for the London club. That match is on at 7:30am EST tomorrow on NBC Sports.
That's it for this edition. If you have any feedback on this format - leading with the match of the weekend and then 3-5 other storylines worth keeping an eye on - please let me know.