Pulisic Scores Again, and European Giants Stumble
Also, Liverpool and Man City both win at the death ahead of their epic clash this weekend at Anfield.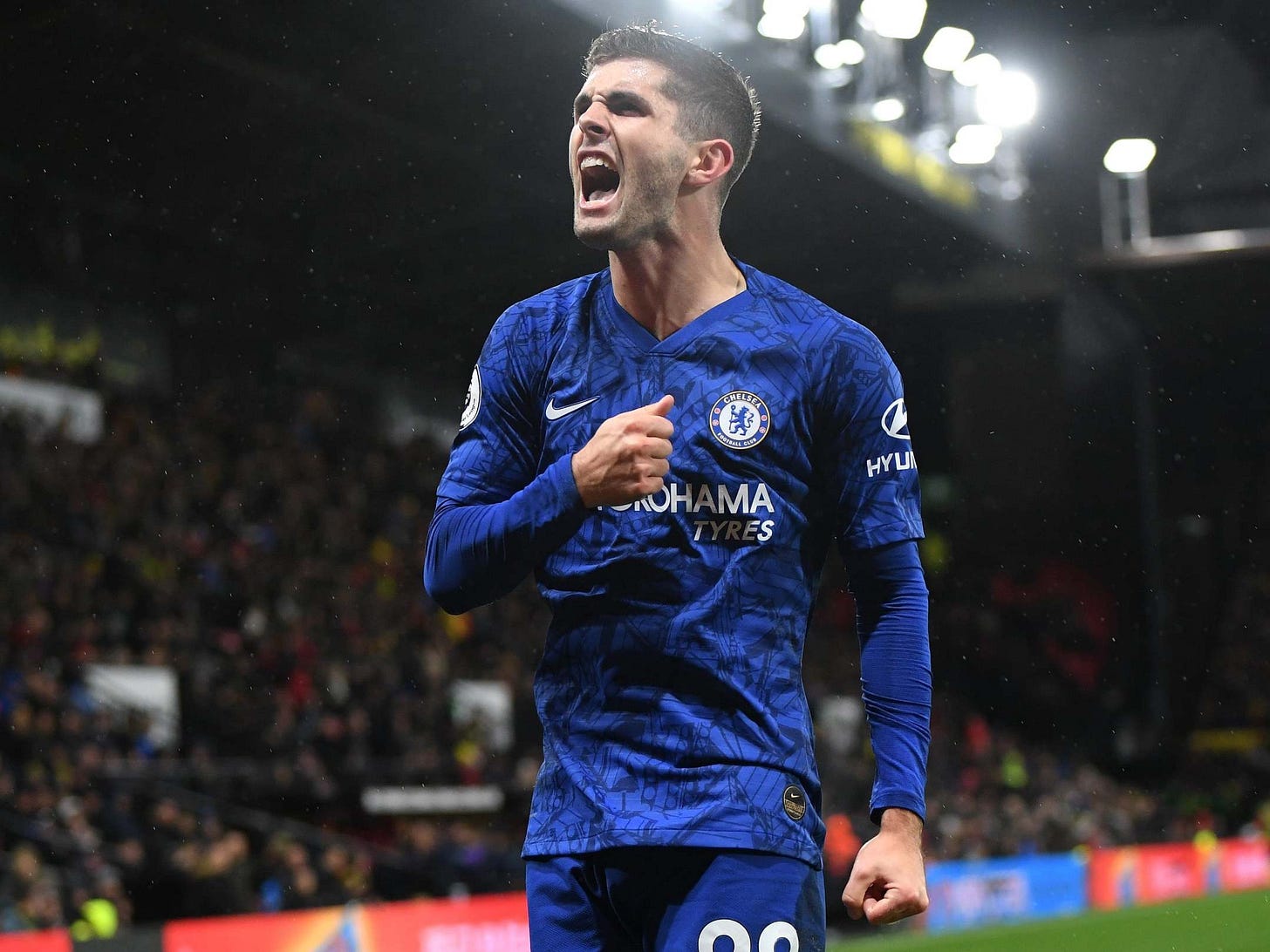 It was a bizarre weekend in European football, but before we get into that: Christian Pulisic scored again for Chelsea and the Blues won their fifth Premier League match in a row, beating Watford 2 - 1. That's four goals in his last two Premier League matches, both of which were away from home. Chelsea's next Premier League match is back in front of their home crowd in London so hopefully Pulisic can keep his newfound scoring streak alive back at Stamford Bridge.
As for the bizarre weekend... look as these score lines:
PSG lost 2 - 1.

Barcelona lost 3 - 1.

Real Madrid drew 0 - 0 at home.

Bayern Munich lost 5 - 1... and then sacked (fired) their coach.
These (super)clubs win far more often than not in their domestic leagues so to see them all fail to win and combine for just three goals across four matches is shocking. Over in Italy, Juventus bucked the trend by winning 1 - 0, but that's still a disappointing result by their standards, so it was a lackluster weekend for the five biggest (and arguably best) clubs outside of England.
Speaking of England, this trend almost extended to the Premier League with both Liverpool and Manchester City finding themselves up against the ropes at halftime of their respective matches on Saturday. More on that below!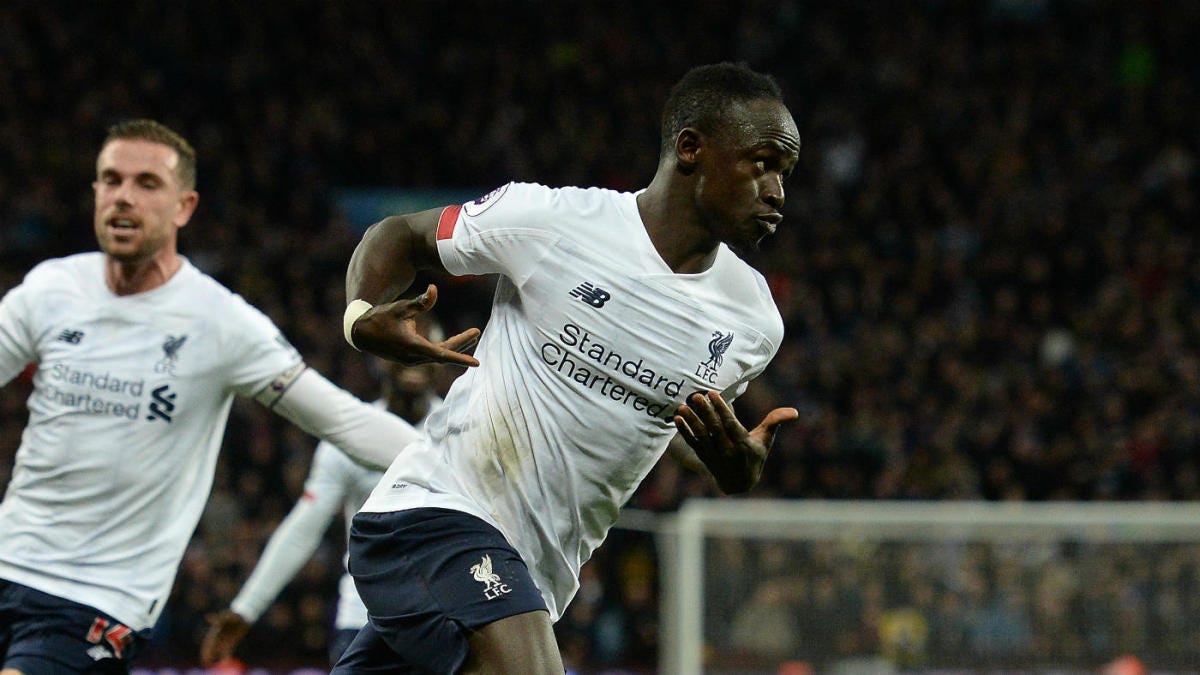 Liverpool - 31 Points (1st Place)
For the third match in a row, Liverpool were down 1 - 0 at half. First it was to Manchester United (Liverpool ended up drawing 1 - 1), then it was to Tottenham (Liverpool ended up winning 2 - 1), and this weekend it was to Aston Villa.

Villa held onto their lead until the 87th minute when Andy Robertson tied it up at 1 - 1, and then, in what's becoming the norm for Liverpool, they won the game with just seconds left when Sadio Mané (pictured above) scored off a corner kick in the final minute of stoppage time. 4 out of 5 of Liverpool's come from behind goals in their last three Premier League matches have come with 15 minutes or less to go in the game. Clutch is right.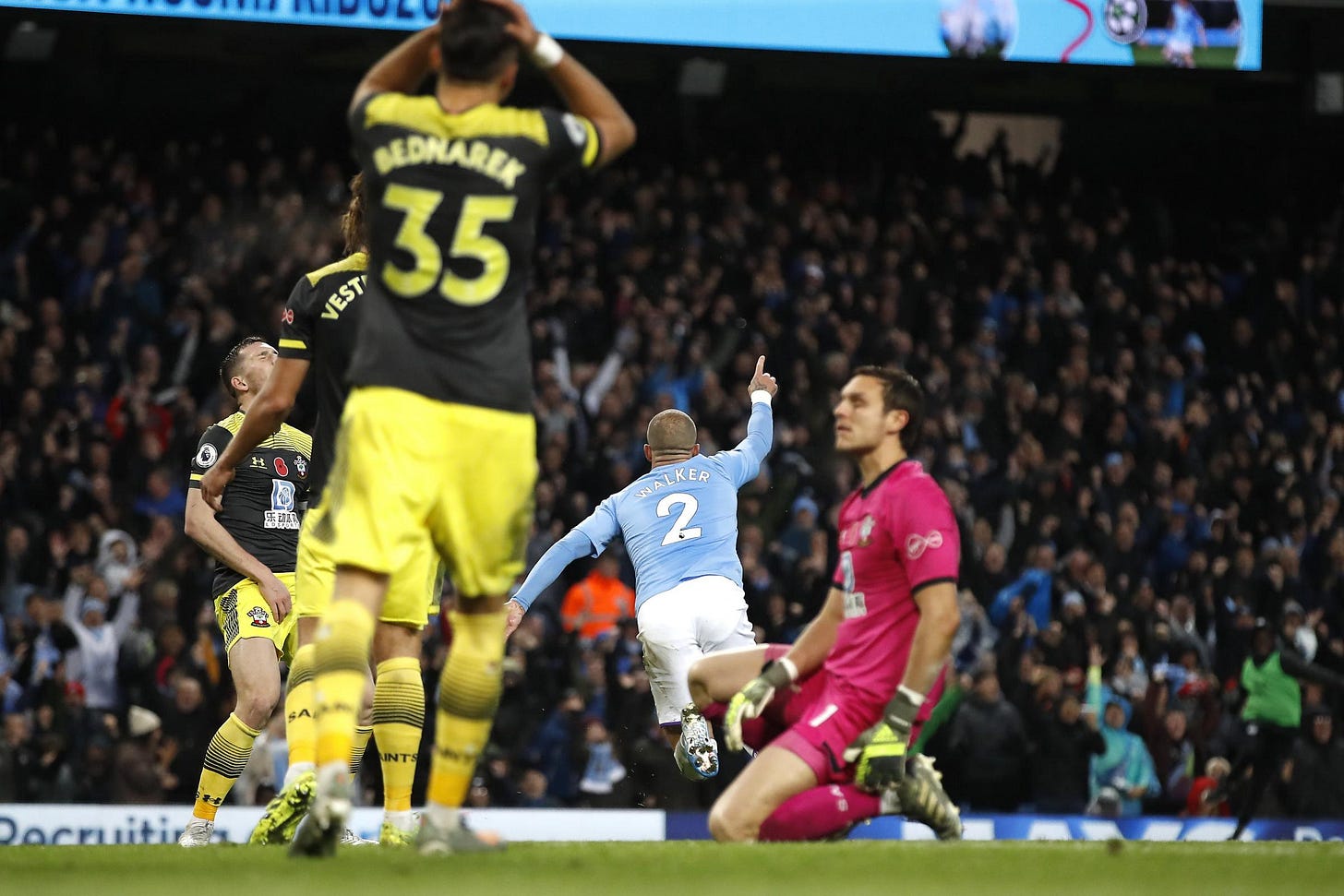 Manchester City - 25 Points (2nd Place)
Just like Liverpool, Manchester City found themselves down 1 - 0 at halftime on Saturday, and just like Liverpool, they scored two goals to come from behind and win their match against Southampton 2 - 1. Sergio Agüero scored in the 70th minute to tie it up and then Kyle Walker (pictured above) finished the job in the 86th minute to win it for the defending Premier League champs.

As for Manchester City's next opponent in the Prem: 1st place Liverpool, next Saturday, away from home at Anfield. It is a must-win for City given they are 6 points behind the Reds in the table (and losing and falling to 9 points behind them will seem insurmountable, even with more than half a season left to play), so it will be a must-watch on Saturday morning at 8:30am ET on NBC.
Chelsea - 23 Points (4th Place)
How fun is this team? Chelsea have scored 25 goals so far this season in the Prem (the same number as Liverpool!), and 17 of them have come from 22-year-old Tammy Abraham, 21-year-old Christian Pulisic, and 20-year-old Mason Mount. None of them were on the team last year, and while it's still early in the season, it feels like they are ushering in a new era of Chelsea football under their new coach (and Chelsea legend), Frank Lampard. If Chelsea beat Crystal Palace on Saturday at home and Liverpool beat Manchester City on Sunday, Chelsea will be 1 point ahead of the defending Premier League champs in the table with 26 (to City's 25).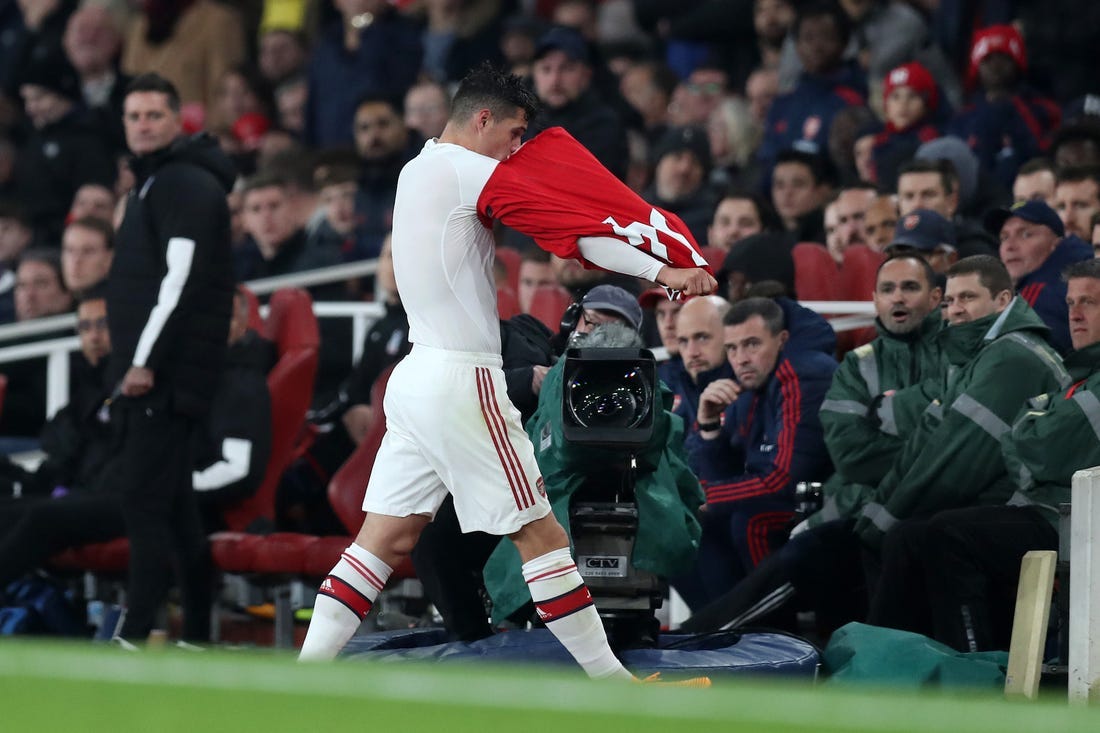 Arsenal - 17 Points (5th Place)
Arsenal drew Wolves at home 1 - 1 this past weekend in another disappointing performance for the Gunners. Supporters are calling for their coach, Unai Emery, to be sacked (fired), and their upcoming match against 3rd Place Leicester City on the road will probably add fuel to the fire as I suspect they will lose to the red hot Leicester side. Arsenal are also having issues deciding what to do with their captain, Granit Xhaka, after his meltdown leaving the pitch last week to a chorus of boos from the home crowd at the Emirates (pictured above).
Manchester United - 13 Points (10th Place)
Last week, I wrote about United:
[United] finally won a match (their first since mid-September) this past weekend, beating Norwich City 3 - 1. They play Bournemouth this Saturday, so they should win their second in a row, but who knows with the season they have been having.
Alas, Manchester United lost 1 - 0 to Bournemouth. Oof.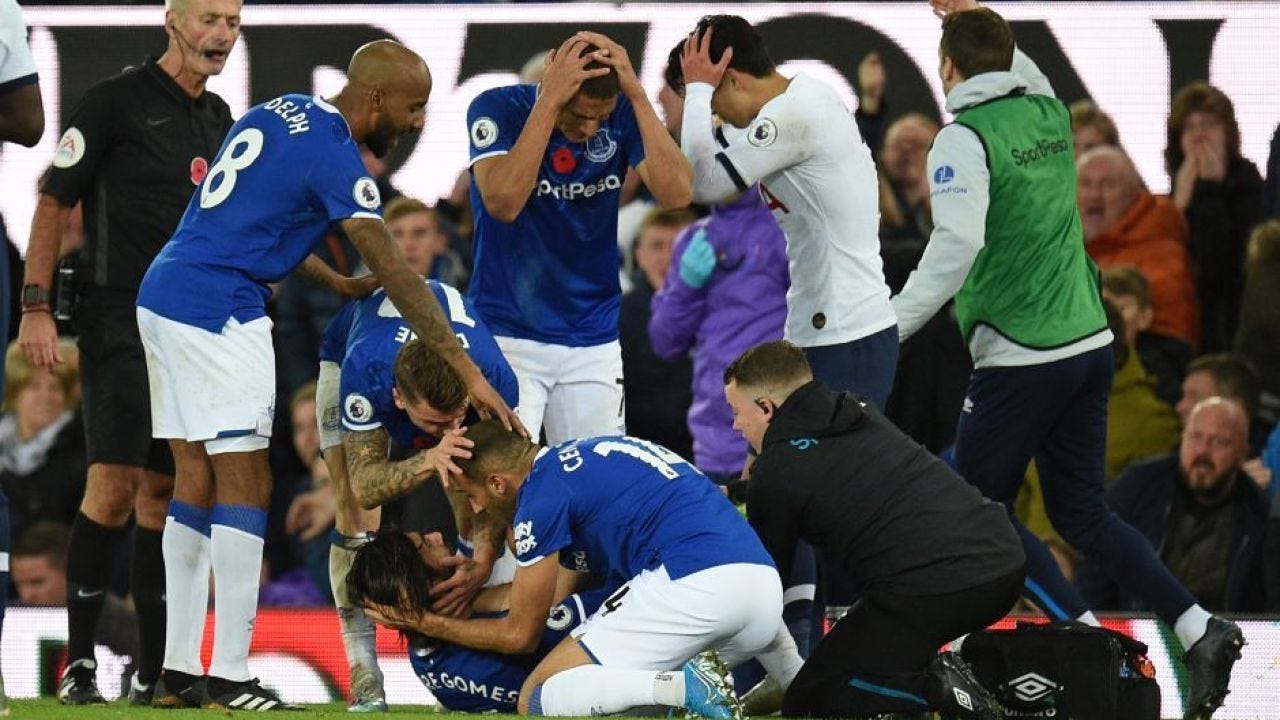 Tottenham - 13 Points (11th Place)
Tottenham's woes continued with a 1 - 1 draw this weekend to Everton on the road, but the real story in this match was the freak injury Everton's André Gomes sustained to his ankle after a tackle from Tottenham's Son Heung-min, who broke down in tears after seeing what he'd done (the scene is pictured above). Thankfully, reports yesterday would indicate Gomes had a "very successful" ankle surgery and is on the road to recovery.

Injury aside, Spurs really need to start winning and have what — on paper at least — should be one of the easier fixtures of the year coming up when they face Sheffield United at home next weekend, so let's see if they can convert.
That's it for this week!