North London Derby, Thriller in Turin, and Teenagers Scoring Goals
Also, an end to the Neymar soap opera (for now), and the first international break of the season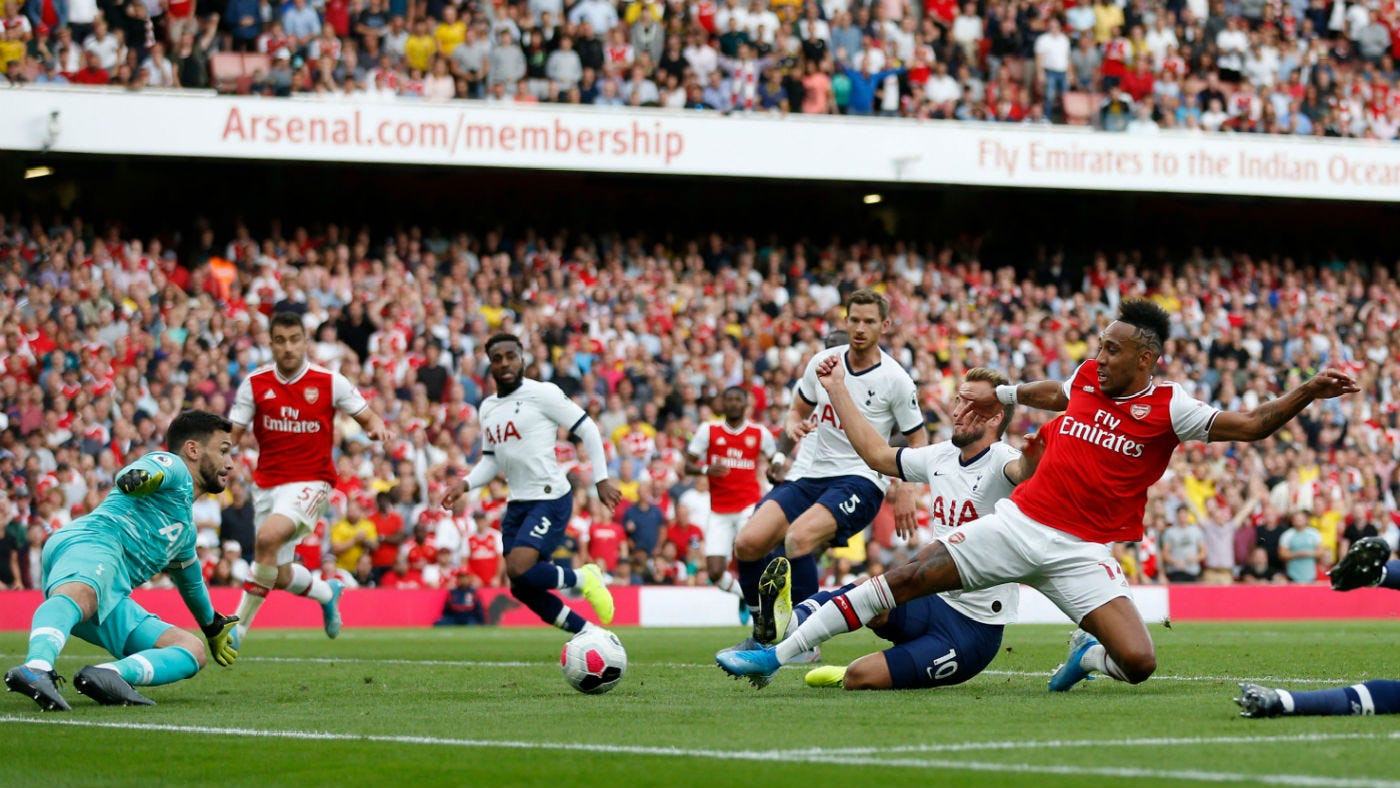 As usual, if you're new to '5 Minute Football Club' and European football in general, I'd recommend reading this primer to better understand how the leagues in Europe are set-up as well as the terminology (Who are the Big Six? What's a table?) around the game. It will help you get more out of this newsletter!
Premier League - Results and Highlights
In European football, a "derby" is a match played between two teams from the same geographical area. Derbies are known for their intensity, with fans bringing an extra element of energy and excitement to a game whose result can mean bragging rights over your neighbor. The atmosphere around a big derby is palpable, and if you watched Arsenal and Tottenham play in the North London Derby on Sunday, you'll know exactly what I mean.
The match — played at Arsenal's Emirates Stadium, 4 miles down the road from Tottenham Stadium — finished in a 2 - 2 draw, and it's hard to say if either fanbase should be happy with that result. Tottenham were coming off of an embarrassing 1 - 0 loss at home to an incredibly underwhelming Newcastle side the previous weekend, so playing their rivals to a draw on the road and earning a point in the table is probably a result most Spurs fans would have taken before the match began, but they also found themselves up 2 - 0 after a Harry Kane penalty kick in the 40th minute, so to squander their lead was a bit disappointing.
On the other hand, Arsenal had just been beaten 3 - 1 by Liverpool (in a match that could have just as easily been 6 - 1) after riding high from winning their first two matches of the season, so their hope was to bounce back and get a win in front of their home crowd against not only their rivals but a team that finished two places higher than them in the table last year. That hope was all but gone after going down 2 - 0, and while their comeback to tie it up at 2 - 2 and ultimately avoid losing was exciting, a few careless mistakes by their defense and a sense that they had figured out how to control the game by the second half but just couldn't convert the game winning-goal will leave Arsenal fans frustrated they couldn't find a way to win.
As for the rest of the Prem..
Burnley 0 - 3 Liverpool

Manchester City 4 - 0 Brighton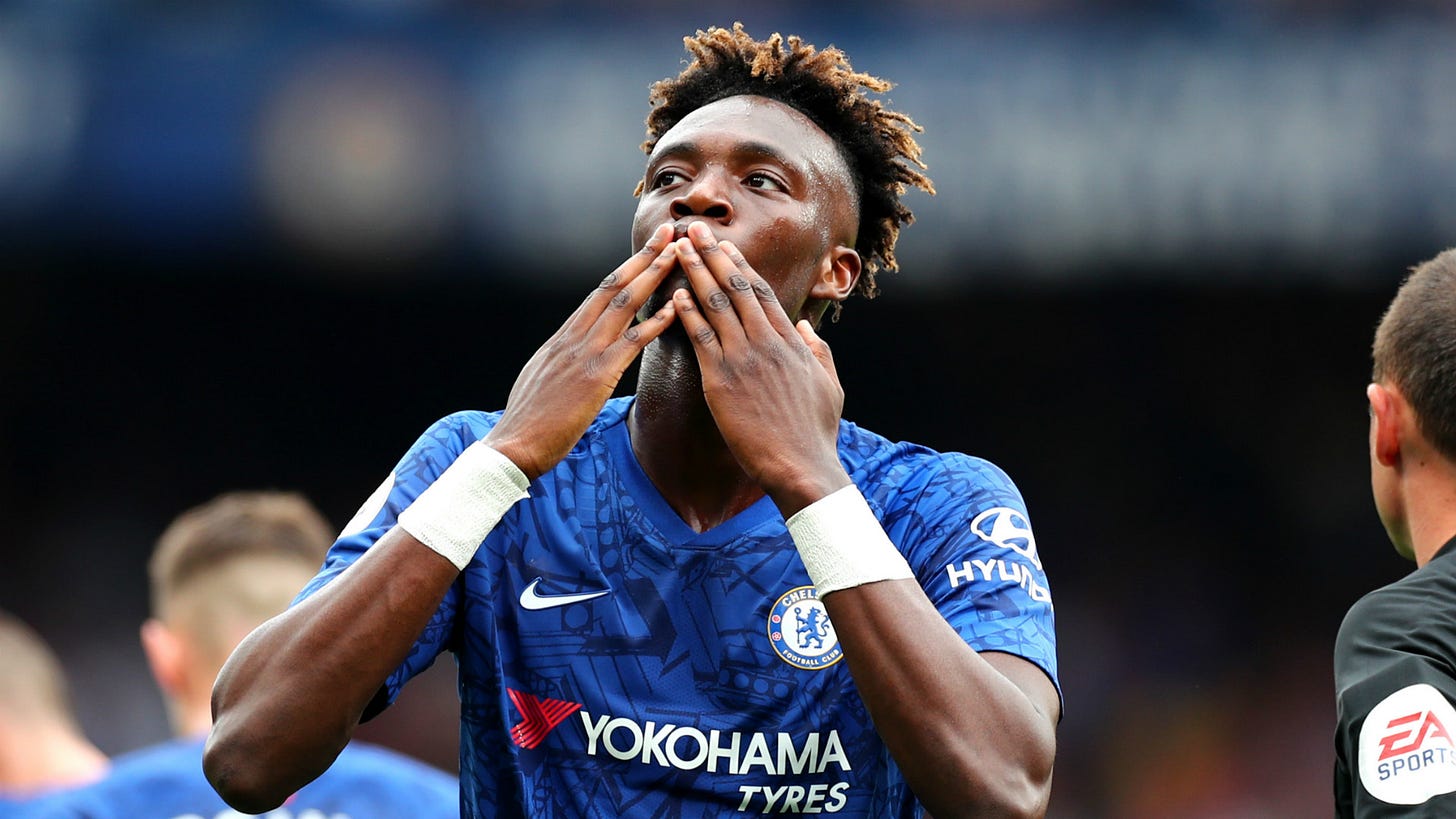 Chelsea 2 - 2 Sheffield United

Chelsea have now played twice at home, scored the first goal (and in this case, the first two goals) in both of those games, and subsequently ended up blowing their lead and ending up with a draw. The only plus side is their young guns up front keep scoring, with 21-year-old Tammy Abraham (pictured above) scoring both goals for the Blues against Sheffield United.

Southampton 1 - 1 Manchester United

United's unlucky spell continues. This weekend, besides drawing a side they traditionally consider a walkover, their best player, Paul Pogba (pictured above), limped off the field with an ankle injury.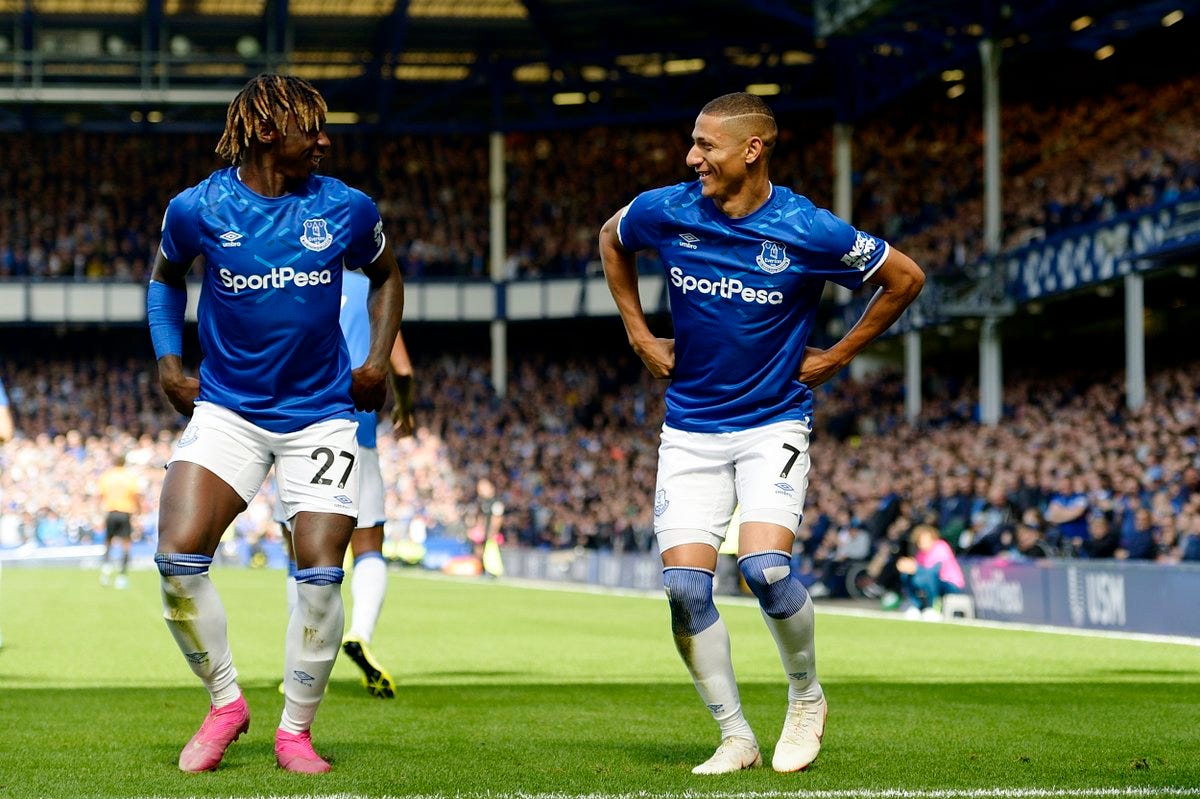 Everton 3 - 2 Wolves

I don't usually cover Everton, but this was an awesome game and with attacking players like Moise Keane (pictured above, left), Richarlison (right), and Alex Iwobi, they are a lot of fun to watch.

Leicester City 3 - 1 Bournemouth
Here's a screenshot of the top of the table.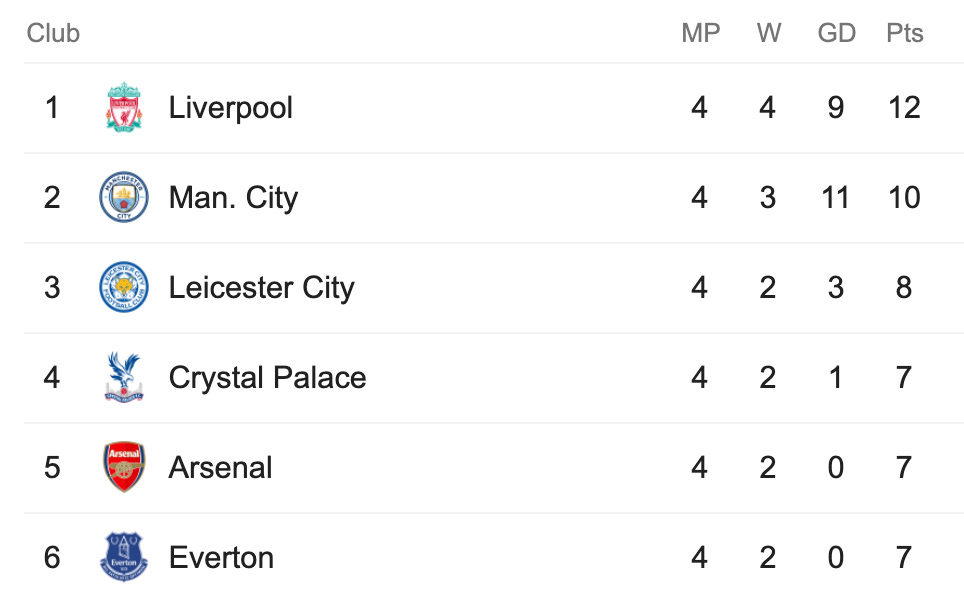 Rest of Europe - Results and Highlights
La Liga (Spain)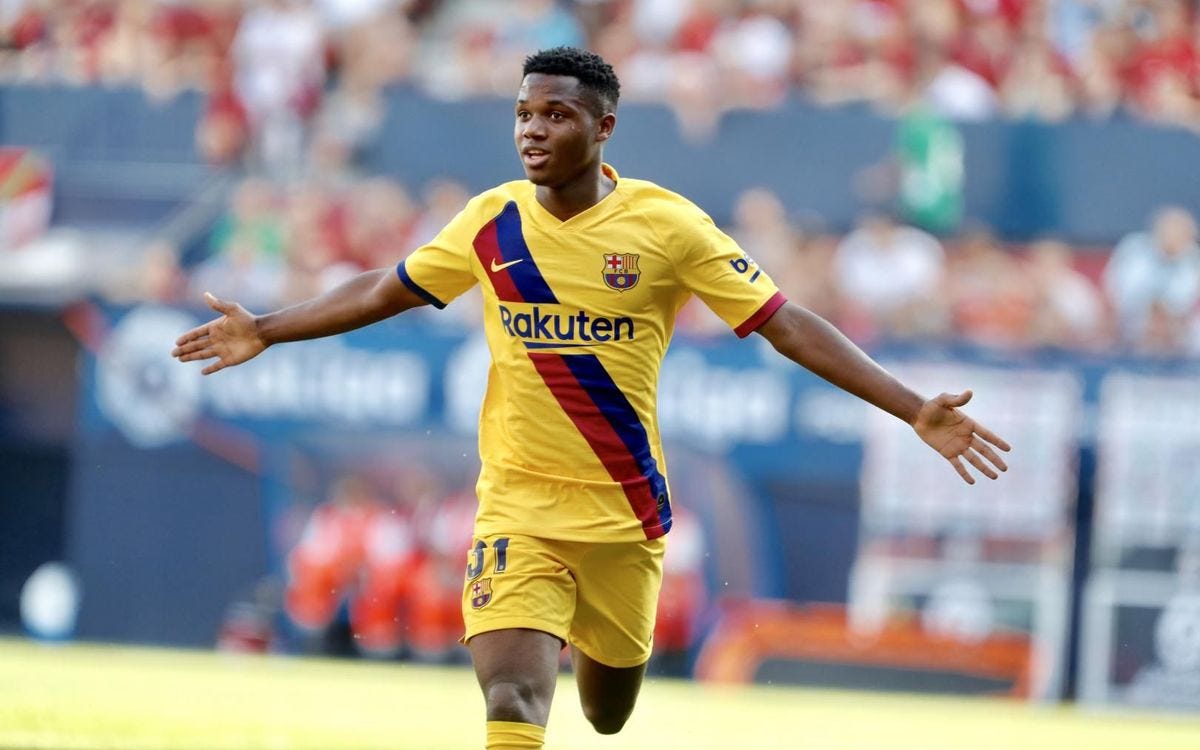 Osasuna 2 - 2 Barcelona

Villarreal 2 - 2 Real Madrid

Real Madrid also dropped points on the road this weekend but avoided a loss thanks to a pair of goals from Gareth Bale, a player that Real's coach, Zinedine Zidane, publicly wants off the team.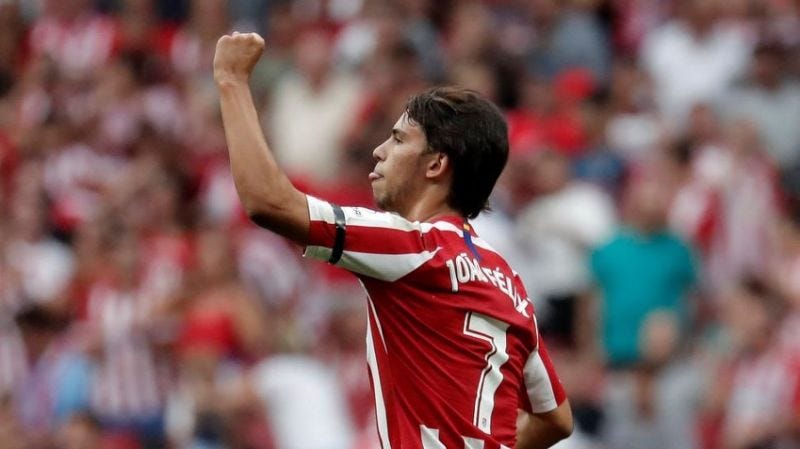 Atlético Madrid 3 - 2 Eibar

Atlético won their third game in a row, collecting all 9 points to open their season and therefore sitting alone atop the La Liga table in first place. In this match against Eibar, they went down 2 - 0 before their newly acquired (and record signing) 19-year-old Portuguese international, João Félix (pictured above), opened scoring for Atlético with his debut goal, kicking off the comeback.
Serie A (Italy)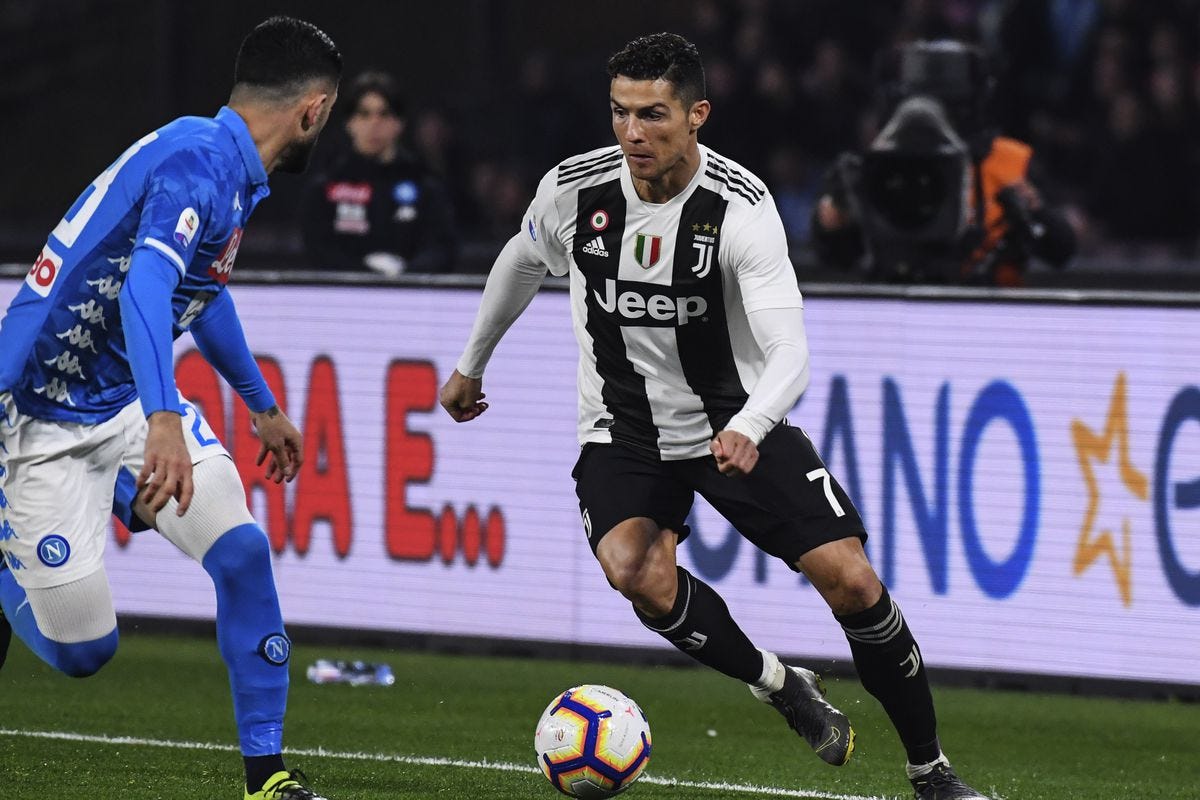 Juventus 4 - 3 Napoli

Cristiano Ronaldo (pictured above) and Juventus looked like they were going to take care of Napoli with ease at home this weekend in Turin, up 3 - 0 after Ronaldo scored his first goal of the season in the 62nd minute… but then, over a span of 15 minutes, Napoli — the only team in Italy believed to be capable of competing with Juventus for the top spot in the table this season — scored three straight goals to tie it up. Almost anti-climactially given what a great match it had been for 90 minutes, in stoppage time, Napoli handed Juventus the win by suffering an own goal off of a Juventus corner kick, helping secure all 3 points for the home team and defending Serie A champs.

Cagliari 1 - 2 Inter Milan
Bundesliga (Germany)
Bayern Munich 6 - 1 Mainz

After opening their season with a 2 - 2 draw at home, Bayern have notched two consecutive (and convincing) wins — 3 - 0 on the road to Schalke, and 6 - 1 this weekend at home to Mainz. Better yet, while their win at Schalke was a product of a Robert Lewandowski hat trick, their six goals against Mainz came from six different players (including Lewandoski), proving their ability to produce is deeper than just their star forward.

Union Berlin 3 - 1 Dortmund

After winning their first two games of the season 5 - 1 and 3 - 1, Dortmund fell this weekend to newly promoted Union Berlin, who notched their first ever win in the Bundesliga.
Ligue 1 (France)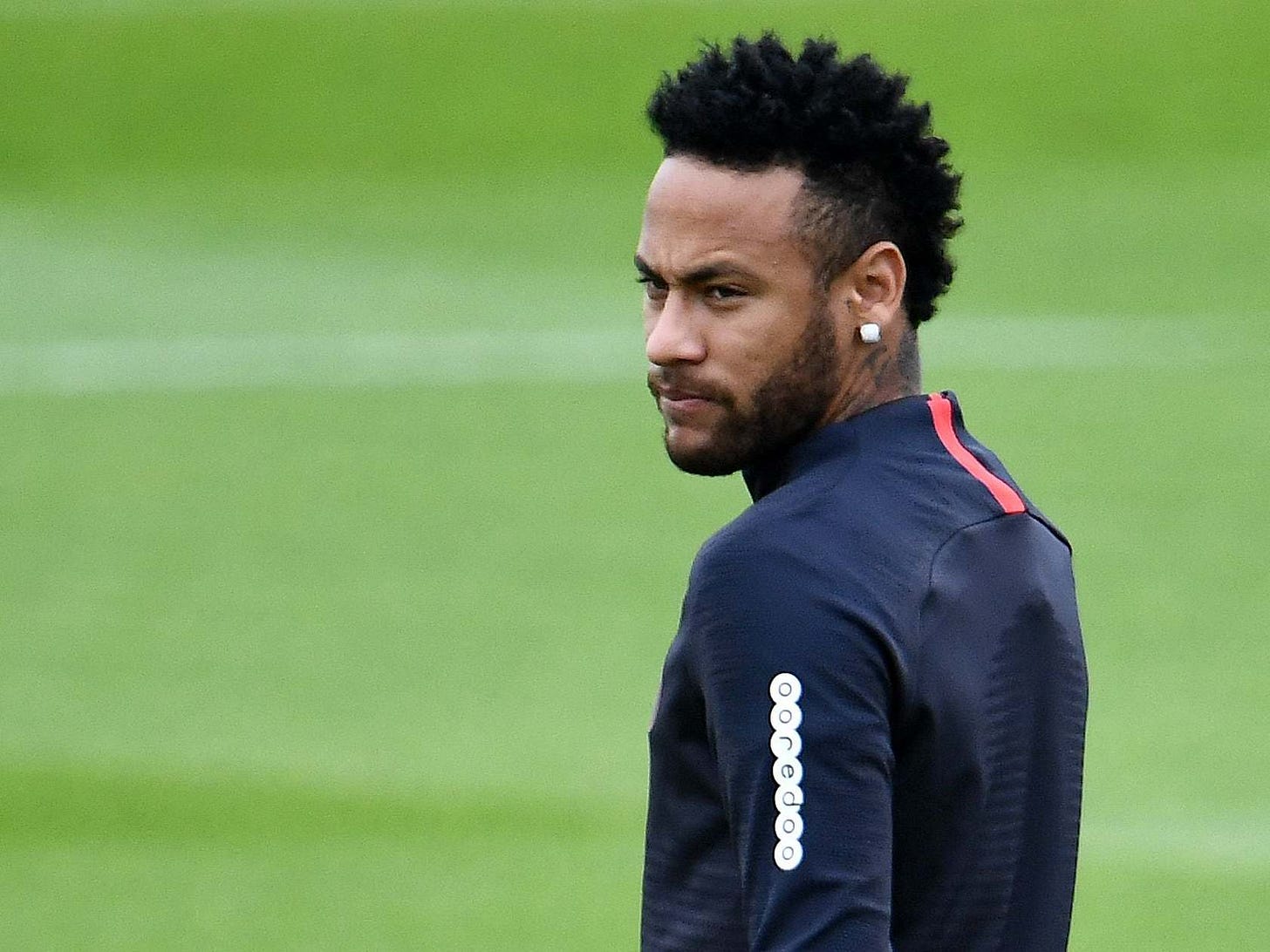 Metz 0 - 2 PSG

The story around PSG is less about their win this weekend and more about the fact that the summer transfer window has closed, and the Neymar soap opera is over. Alas, the Brazilian forward (pictured above) is not returning home to Barcelona or defecting to Real Madrid, but — albeit unhappily and against his will — staying at the Paris club until at least January when the winter transfer window opens for a month.
That's it for this edition. Note that the "International Break" just began, so all of the leagues in Europe go on pause (meaning there are no club games this weekend) while the top players return to their home countries to play for their national teams. That means no 5MFC this Friday or Sunday, so expect the next edition to hit your inbox on Friday 9/13.
Also, apologies that there was no newsletter this past Friday. That will happen from time to time given this is very much a side project for me and can't always take priority in my week.