Keeping 5MFC to 5 Minutes, and the Premier League's "Big Six" Status Report
Also, at the end, a Luis Suarez bicycle kick for Barcelona.
"The newsletter definitely takes more than 5 minutes to read." - Two of my friends, this past week.
My friends are right! I'm targeting the "exceptionally casual fan" with 5MFC — people who watch little to no European football on a weekly basis (for now) but want to know just enough to be dangerous when it comes up in conversation and feel like they know enough to follow along when they stumble across a game on TV.
That said, while I am going to continue to experiment with different formats, I'll do my best to always make sure the first section of any given edition can be consumed in 5 minutes or less (and focuses on the major results and top storylines in a more efficient manner). If I do want to wax poetic about anything else any given week, I'll do so after that first section for those of you who are interested in being members of the elite '5 Minute Football Club: Extra Time' community. I just made that up, but I like it.
On to the newsletter...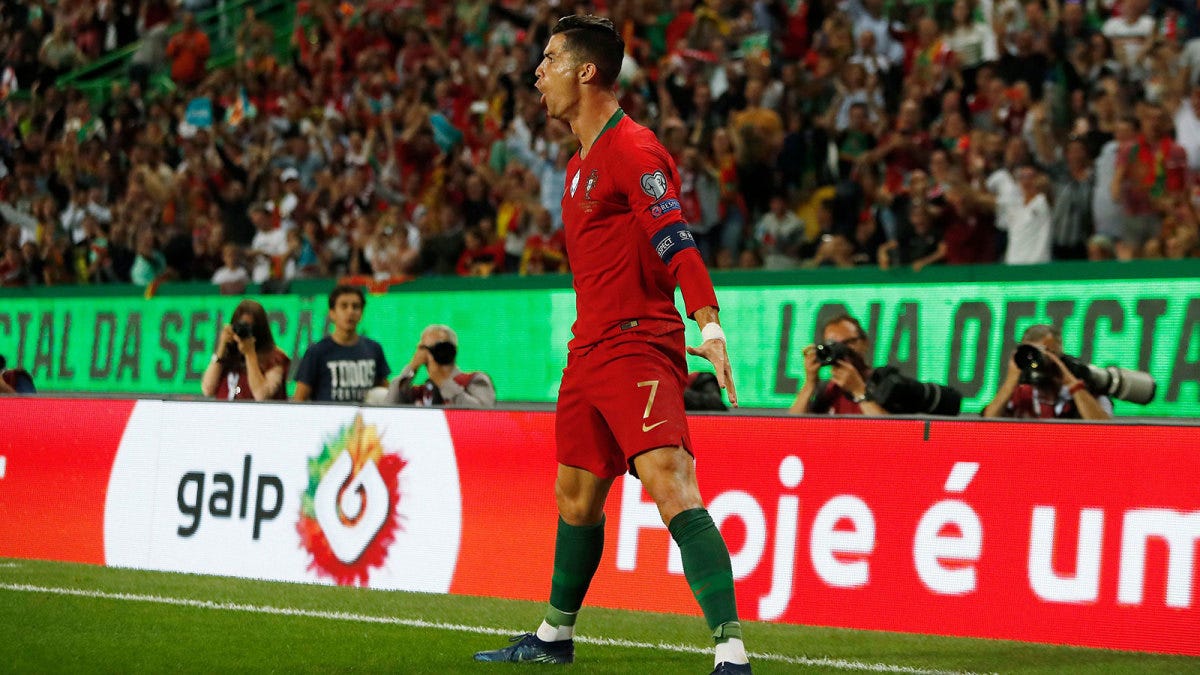 There was no club football played in Europe this weekend as we're in the middle of the second "International Break" of the season. As a reminder, a couple of times per year, all of the domestic leagues in Europe pause for a week so top players (like Cristiano Ronaldo, pictured above after scoring a goal for Portugal this weekend) can return to their home countries and play for their national teams.
As for the Premier League, here's what you need to know — in 5 minutes! — about the "Big Six" ahead of league play commencing next weekend:
Liverpool - 24 Points (1st Place)
Liverpool was awarded a penalty kick in extra time against Leicester City last weekend, scoring moments before the final whistle to win 2 - 1 and extend their winning streak to start the season to 8 in a row.

Liverpool play Manchester United next weekend away from home at Old Trafford, and while that's usually one of the best fixtures of the season in the Premier League between two historically fierce rivals, United have been so bad to start the year that it should be more of a routine win than anything else for The Reds.
Manchester City - 16 Points (2nd Place)
Last month, newly promoted Norwich City upset the defending Premier League champions 3 - 2, handing them their first loss of the season. City bounced back quickly, winning their next two games and scoring 11 goals in the process, only to fall again last weekend in a 2 - 0 loss at home to Wolves.

City have a seemingly easy schedule these next couple of weeks ahead of their highly anticipated November 10th fixture against Liverpool.
Arsenal - 15 Points (3rd Place)
Credit to Arsenal: aside from a 2 - 2 draw against Watford, they are winning the games they are expected to win (Newcastle, Burnley, Aston Villa, Bournemouth), drawing those you'd expect them to draw (Tottenham, Manchester United), and losing those you'd expect them to lose (Liverpool), at least on paper.

In a league that starts and stops with Liverpool and Manchester City, everyone else competing in the top half of the table is just gunning for 3rd or 4th place to ensure a spot in the Champions League next year, and consistency like Arsenal's managed through the first two months of the season should guarantee them one of those spots if they can keep it up.
Chelsea - 14 Points (5th Place)
Chelsea — bursting at the seams with talented young players — have been the most fun team to watch in the Prem this season. They are currently tied for fourth place on the table with 14 points and have scored four more goals than any other team not named Liverpool or Manchester City this season.
Tottenham - 11 Points (9th Place)
Tottenham's poor start to the season's gotten even worse since October rolled around. They have played twice this month, losing once at home in a Champions League Group Stage match against Bayern Munich 7 - 2, and then a couple of days later got shut out by lowly Brighton 3 - 0 on the road.

Spurs haven't won two matches in a row yet in the Premier League this season, and while they should (should..) be able to take care of Watford at home next weekend, their last fixture of the month is against Liverpool, at Anfield, so winning two in a row will probably have to wait until November.
Manchester United - 9 Points (12th Place)
Oddly, Manchester United's only two wins this season have come against two of the three best teams they have faced: Chelsea and Leicester City. Add Arsenal as the third team in that equation, who they drew 1 - 1, and their losses to Crystal Palace, West Ham and Newcastle sting even more.

United's been plagued by injuries, most notably to their star midfielder, Paul Pogba, but on the bright side, after next weekend's clash against Liverpool, their next 5 games are against teams in the bottom half of the table (which I guess, per my first point, could really backfire for them!).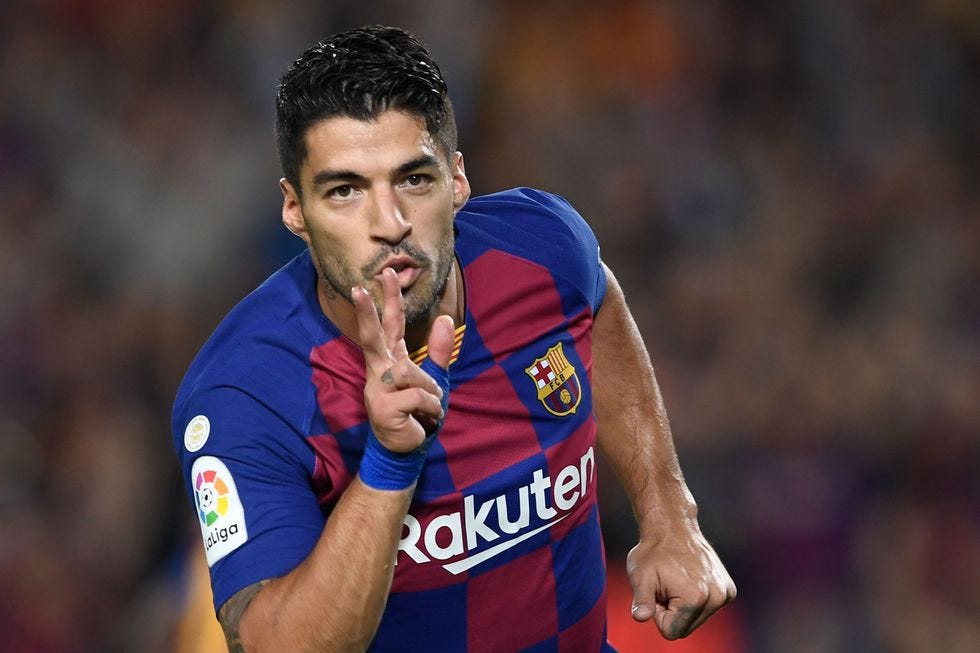 Last but not least, in Barcelona's 4 - 0 win over Sevilla last weekend in La Liga, Luis Suarez (pictured above) scored on an incredible bicycle kick. You can watch it here, just wait until the 0:12 mark.
Thanks for reading! As always, all feedback is welcome and appreciated, just reply directly to this email.