The International Break, and a Premier League Review
Also, some of the matches and storylines to keep an eye on around Europe this weekend.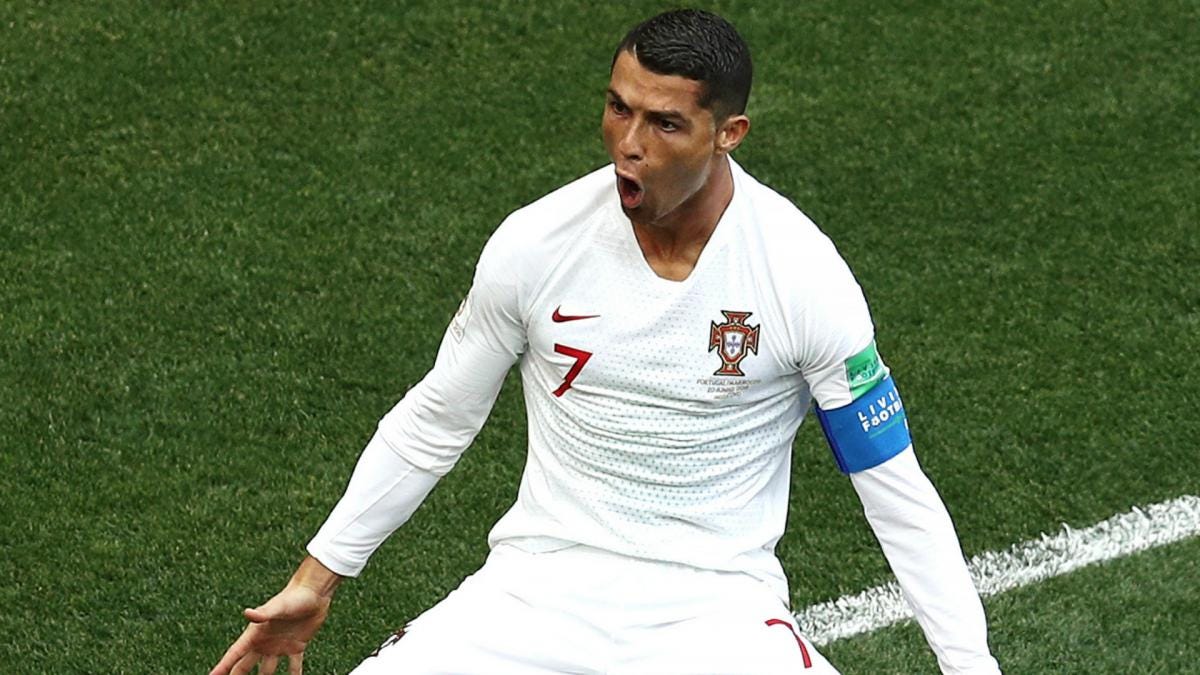 A couple of times per year, all of the domestic leagues in Europe pause for a week and a half so players can return to their home countries and play for their national teams. Referred to as the "International Break," this is when you'll see stars like Cristiano Ronaldo (pictured above) play for Portugal, Neymar play for Brazil, and Christian Pulisic suit up for the United States.
Often, national teams just schedule "friendlies" against one another during these breaks. The result of these matches mean next to nothing and pale in comparison to high-stakes international fixtures (like World Cup qualifiers) that can also be scheduled and played during these stretches.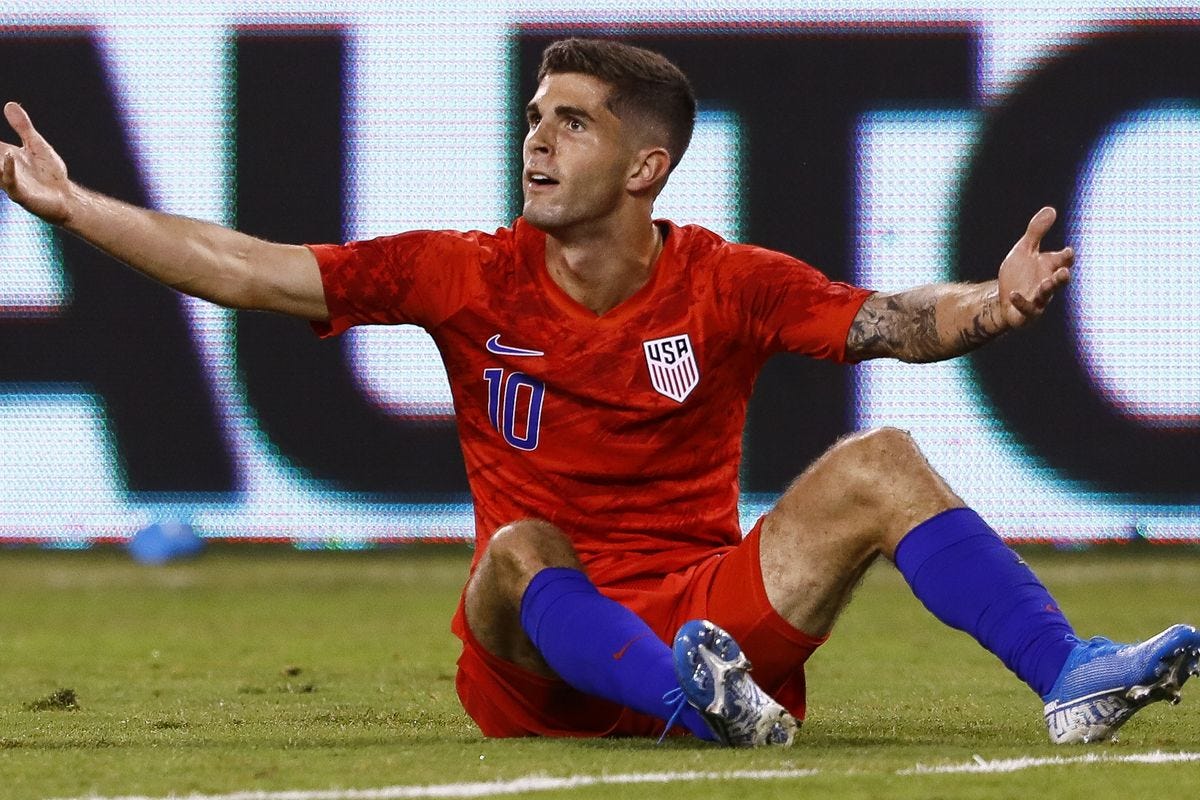 The first international break of the season just ended, which means Europe's domestic leagues are back in action this weekend. For the US subscribers: Christian Pulisic (pictured above) and the US Men's National Team lost 3 - 0 to Mexico at home in New Jersey, and then drew Uruguay 1 - 1 at home in St. Louis, so it was a pretty disappointing showing regardless of the fact that they were just friendlies.
Anyway, back to Europe, starting with a snapshot of the (top half) of the table heading into the fifth weekend of the season: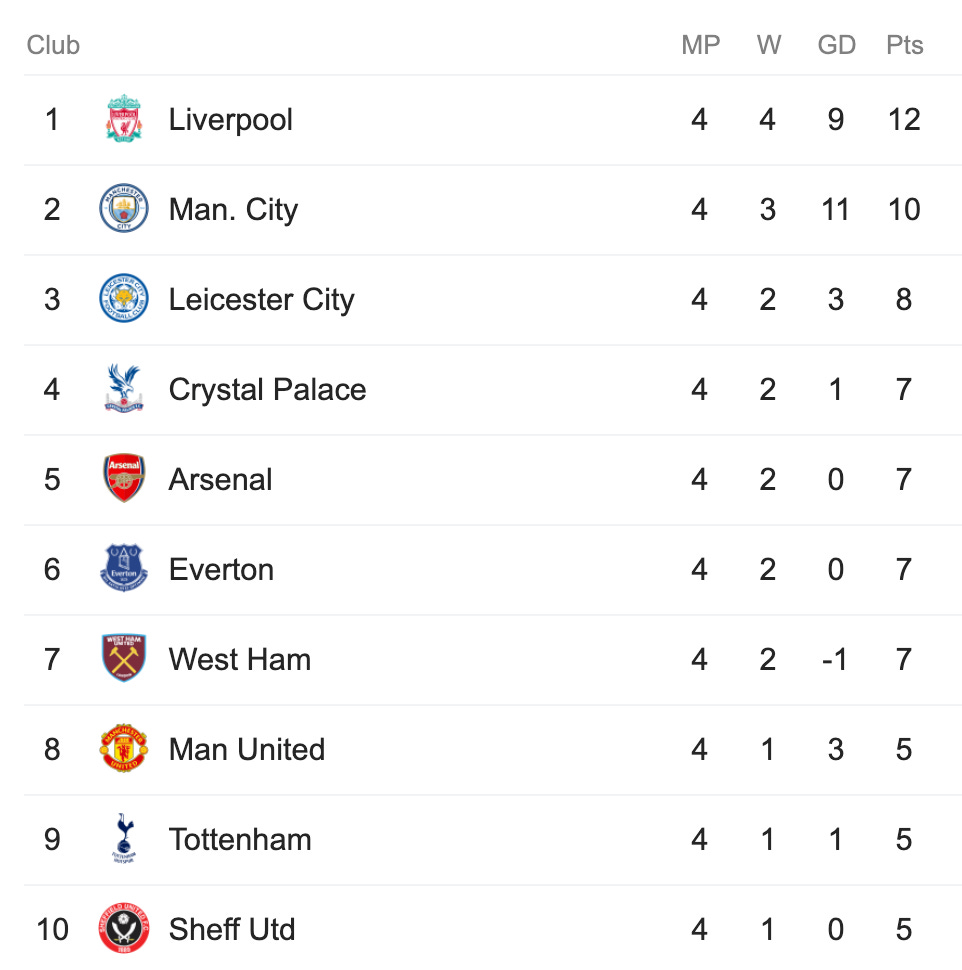 As you can see, every club in the Premier League has now played four matches (designated by MP - "Matches Played" - in the table), and here's what we know for sure:
Liverpool and Manchester City are (once again) in a league of their own.

Liverpool have won all four of their games to open their 2019-20 campaign and sit alone at the top of the table with 12 points. This streak was highlighted by a 3 - 1 win over Arsenal at home which felt like an even more lopsided performance for the Reds than the final scoreline would indicate.

Manchester City have won three out of four, the only blemish being their 2 - 2 draw against Tottenham a couple of weeks ago in a game that they absolutely dominated and were unlucky not to win. They sit alone in second place in the table with 10 points, but look stronger than Liverpool through one month of play.

As for the rest of the Prem, the competition for the "best of the rest" is truly up for grabs, so here's my read on each contender four weeks into the season:

Liverpool and Manchester City are (once again) in a league of their own. Prior to the season starting, Tottenham were clearcut favorites to finish third and potentially even compete for the league itself alongside Liverpool and City, but have only won one out of four to start their campaign this year. To be fair, after opening their season with a win over Aston Villa, they played Manchester City to a draw on the road which is a result any team (including Liverpool) would be thrilled with, but then they went on to lose 1 - 0 to Newcastle at home and draw Arsenal 2 - 2 on the road in the North London Derby (after blowing a 2 goal lead). It certainly feels like any momentum generated from the City draw is gone, and their coach (Mauricio Pochettino, pictured above) is reportedly on the hot seat (though I don't buy that at all). Spurs may just be suffering from a hangover from making the Champions League Final last June and have definitely been unlucky with injuries of late, but they have to start winning if they want to keep they want to finish in third again, let alone compete with the two juggernauts at the top of the league.

Chelsea finished fourth last season, and while I would be (very) surprised if they can repeat or improve upon that position this year, I would argue that the club actually has quite a bit going for them of late and should feel good about the future. Losing Eden Hazard (their best player) to Real Madrid over the summer was an inevitability that was more like finally ripping a band-aid off than anything else, and a crop of young talent has emerged alongside new coach Frank Lampard that fans should be excited about. Between Christian Pulisic (20, picture above to the left), Tammy Abraham (21, middle), Mason Mount (20, right), Ruben Loftus-Cheek (23) and Callum Hudson-Odoi (18), Chelsea's upside in the coming years feels pretty high in a way that wouldn't just require them to spend money in the transfer market (though they will do that too), and at the very least, as they have already proven this season, their games will be a lot of fun to watch.

Arsenal look like they could score a lot of goals this season with the addition of 24-year-old Ivory Coast international Nicolas Pépé (pictured above, left) joining Pierre-Emerick Aubameyang (middle) and Alexandre Lacazette (right) to form an attacking trident up top, but they also look like they could let a lot of goals find the back of their own net with an average-at-best defense. They have won three out of their first four games, only dropping points in their 2 - 2 draw at home in the North London Derby against Tottenham, but Arsenal absolutely have a shot at a Top 4 finish this season - maybe even third place - if their front three score as many goals as they should and their defense finds a way to improve even just a little bit.

Nobody has had worse luck than Manchester United. After a convincing 4 - 0 win against Chelsea at home to open the season, they drew against Wolves in a match that saw Paul Pogba miss a penalty kick, and then lost by a goal against Crystal Palace less than a week later, once again missing a chance to convert from the penalty spot (except this time, it was Marcus Rashford). To make matters worse, in their next game, Pogba picked up an injury in a 1 - 1 draw against Southampton. These are all games United should be winning (but obviously aren't). The only bright spot in their season thus far has been the emergence of 21-year-old Welsh international Daniel James (pictured above) who's scored three goals for the Red Devils so far.

Outside of the Big Six, Leicester City and Everton are my dark horses to surprise people this season and maybe even make a run at Top 4 spot. Leicester, currently sitting alone in third place, impressed in a 2 - 2 draw away from home at Chelsea a couple of weeks ago and have a chance to do so again when they play Manchester United on the road at Old Trafford tomorrow. As for Everton, they have a new-look attack that, like Arsenal, could score a lot of goals this season (and at the very least will be fun to watch).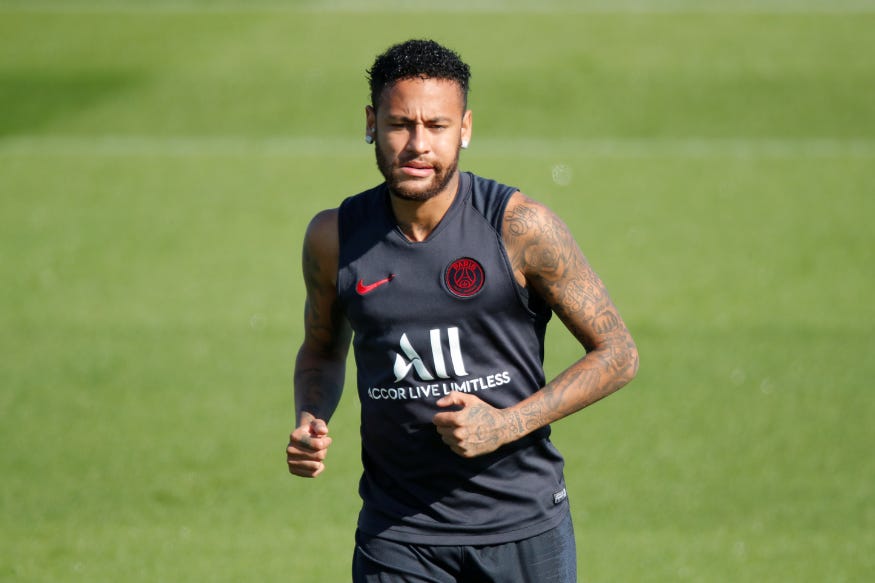 Outside of the Prem, these are some of the matches and storylines worth keeping an eye on this weekend in Europe:
Neymar (pictured above) is stuck in Paris until at least January when the transfer window reopens, so after holding out since the start of the season hoping for a move back to Barcelona, look for him to make his debut at home for PSG against Strasbourg tomorrow at 11:30am EST.

The pressure is mounting in Barcelona after opening the season with only one win in three games (the other two being a loss and a draw) and they will be without Lionel Messi again tomorrow as they host Valencia at 3:00pm EST. Similarly, their rivals in the capital, Real Madrid, look to improve after back-to-back draws (after opening their season with a win) tomorrow morning at 7:00am EST against Levante.

Likely the best game of the weekend is in Germany's Bundesliga, and it's between Bayern Munich and RB Leipzig. Besides Dortmund, Leipzig probably has the best chance at competing with Bayern for the top spot in the Bundesliga this season and they will be playing at home tomorrow at 12:00pm EST on FS1 in the US.

As for the Prem, the three best matches are all at 10:00am EST tomorrow (Saturday), with matches that United, Chelsea and Tottenham will all feel quite a bit of pressure to win and buck the recent trend of underwhelming results.

Manchester United vs. Leicester City

Wolves vs. Chelsea

Tottenham vs. Crystal Palace
That's it! The 2019-20 Champions League competitions kicks off next Tuesday, so look for a primer similar to the European Football Primer I wrote last month to hit your inbox Tuesday morning before the first fixture (in addition the regular Sunday night recap edition).