An American Hat Trick, and North London Woes
Also, the GOAT scores the 50th free kick goal of his career.
On September 30th, I wrote the following about Christian Pulisic:
One Chelsea storyline to keep an eye on in the coming weeks is American Christian Pulisic's playing time. The 21-year-old winger hasn't played a single minute for the Blues in the Premier League since August 31st, riding the bench in all three of their last matches.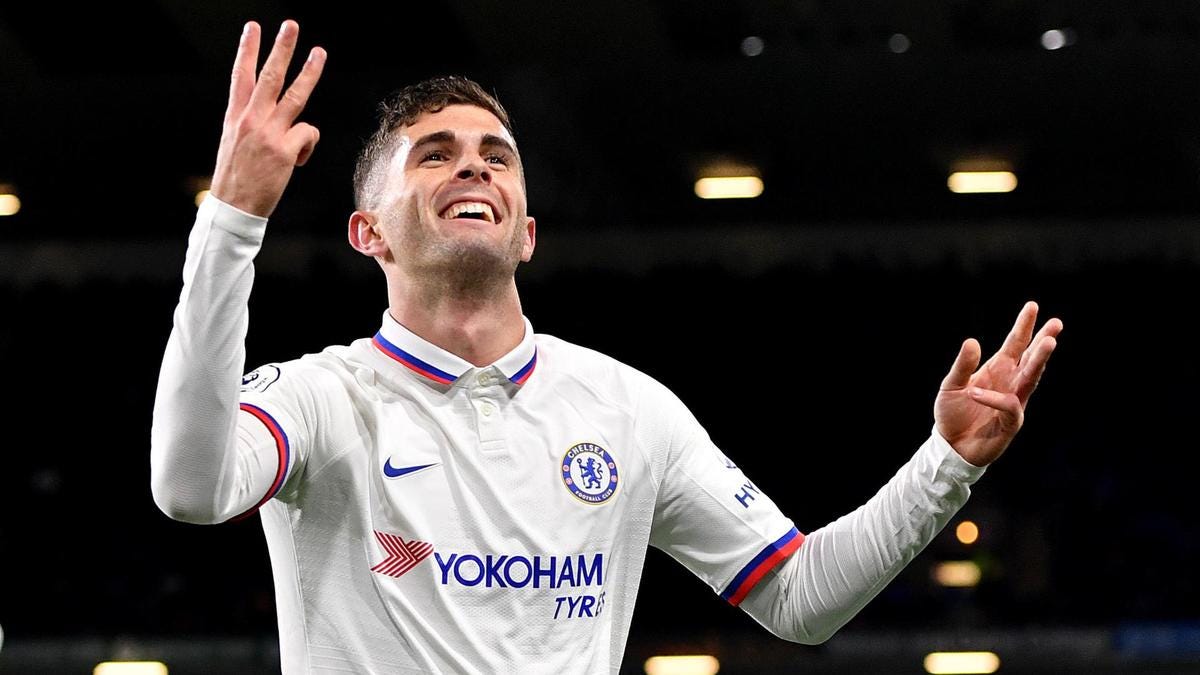 Let's check-in on how "the future of American soccer" is doing, one month later.
October 6th — Pulisic went on as a sub in the 80th minute and assisted Michy Batshuayi's 89th minute goal. Chelsea beat Southampton 4 - 1 on the road.

October 19th — Pulisic went on as a sub in the 64th minute and created the opportunity that led to a goal for Marcos Alonso in the 73rd minute. Chelsea beat Newcastle 1 - 0 at home.

October 23rd — Pulisic went on as a sub in the 66th minute and assisted Michy Batshuayi's 86th minute goal. Chelsea beat Ajax 1 - 0 on the road in the Champions League.
After coming off of the bench in three straight games and creating a goal — including two game-winners! — in each appearance, Pulisic finally got the starting nod this past Saturday against Burnley. Here's how he did:
Yup. Not only did he score his first ever Premier League goal, but he scored three in a row to become only the second American man (alongside Clint Dempsey) to score a hat trick in the Premier League. Chelsea ended up beating Burnley 4 - 2 and are in 4th place on the table with 20 points (Leicester, in 3rd place, also have 20 points, but have a superior goal differential thanks in large part to their 9 - 0 drubbing of Southampton last Friday).
Elsewhere in the Prem...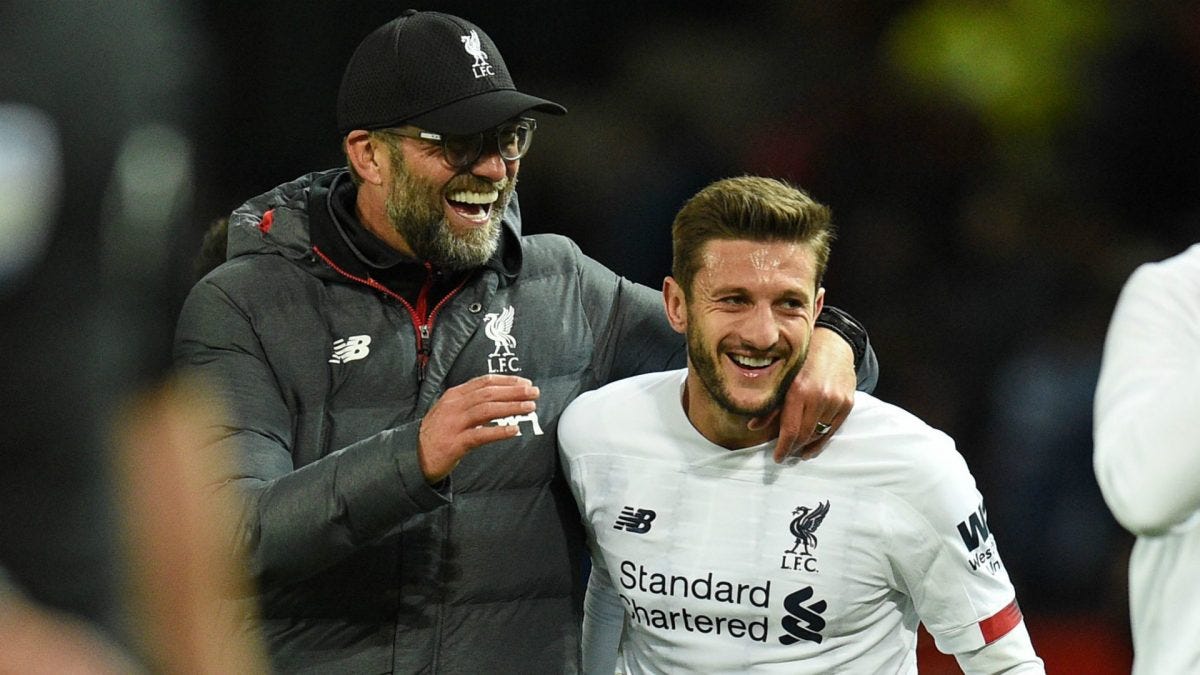 Liverpool - 28 Points (1st Place)
Liverpool are still in first place but had their winning streak snapped when Manchester United somehow managed a 1 - 1 draw against them at Anfield a week and a half ago. It took an 85th minute goal from Liverpool's Adam Lallana (pictured above) to avoid losing to their rivals (at home, no less) and a side that's been struggling tremendously this season. Had they held on, it would have been United's first win in the Premier League since September 14th.

This past weekend, Liverpool was challenged once again by a struggling side. This time it was Tottenham, who jumped out to an early 1 - 0 lead on Harry Kane's goal in the 1st minute, but Liverpool managed two goals before it was all said and done to win 2 - 1. The Reds play Aston Villa this coming weekend.
Manchester City - 22 Points (2nd Place)
Man City's had an easy schedule these past couple of weeks and took care of business against Crystal Palace and Aston Villa, winning both matches without much trouble. They play Southampton this coming weekend, so expect more of the same (read: easy wins).
Chelsea - 20 Points (4th Place)
Chelsea keep winning the games they should win, taking care of business against Newcastle and Burnley (thanks especially to Christian Pulisic!). They play Watford this coming weekend.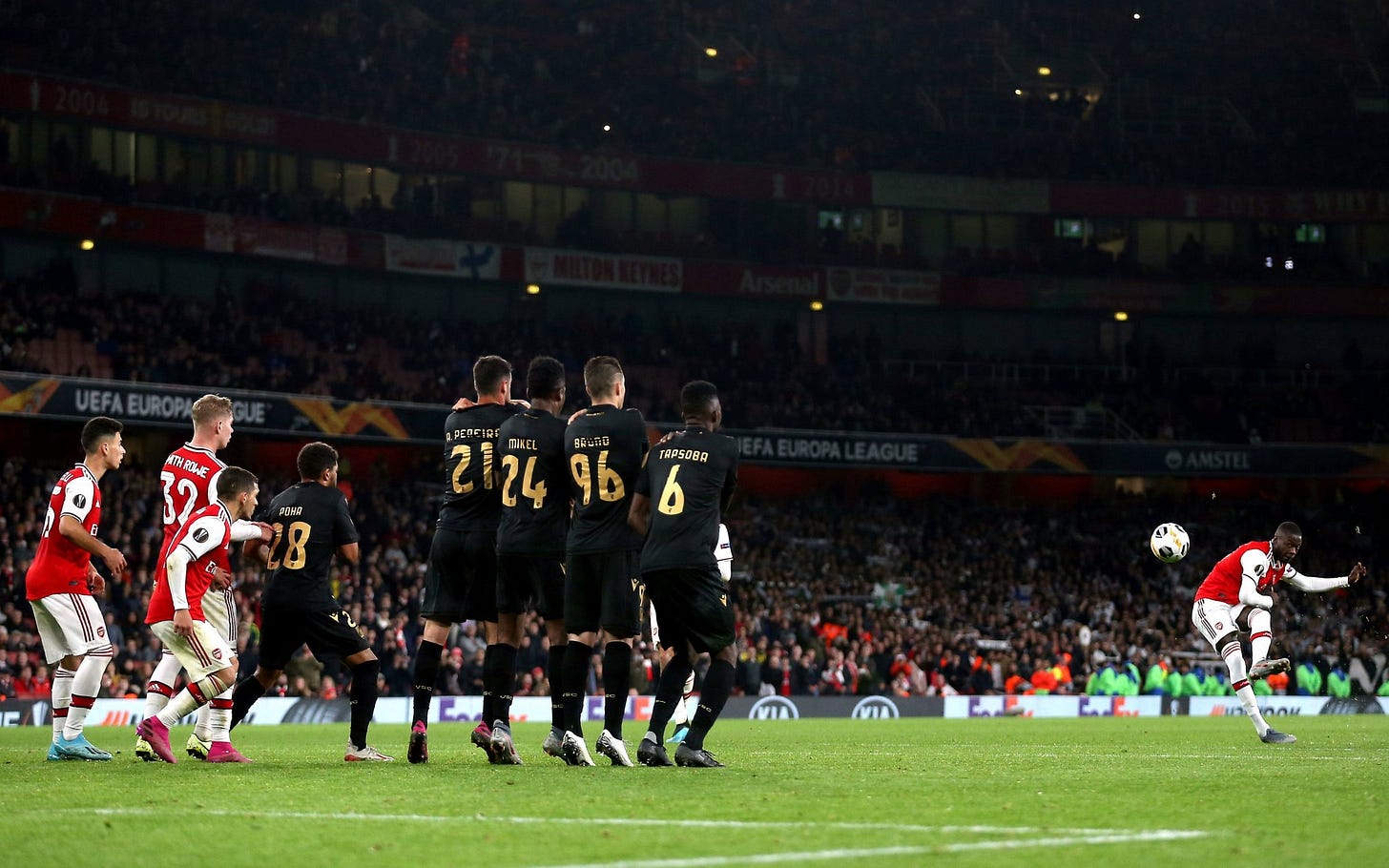 Arsenal - 16 Points (5th Place)
Speaking of winning the games they should win, Arsenal (North London reference #1) is not doing that. They lost 1 - 0 to Sheffield United a week and a half ago and drew Crystal Palace 2 - 2 this past weekend. Worse, the two goals they scored against Palace came from their two center backs, respectively, and not Aubameyang, Lacazette or Nicolas Pépé.

(I haven't written a single word about the Europa League competition in this newsletter, so if you don't know what it is, don't worry about it, but I have to mention Nicolas Pépé (pictured above) saving Arsenal's ass last week by coming on in the 75th minute against Vitória SC, down 2 - 1, and scoring back-to-back goals off of free kicks in the 80th minute and in stoppage time to win the game. You should watch them both. Incredible.)
Manchester United - 13 Points (7th Place)
Nobody expected United (pictured above) to put up a fight against Liverpool on the road a week and a half ago, but they managed to get away with a 1 - 1 draw. Following that momentum, they finally won a match (their first since mid-September) this past weekend, beating Norwich City 3 - 1. They play Bournemouth this Saturday, so they should win their second in a row, but who knows with the season they have been having.
Tottenham - 12 Points (11th Place)
Tottenham (North London reference #2) will finish the month having not won a single Premier League match in October. They drew Watford 1 - 1 a week and a half ago at home and lost 2 - 1 to Liverpool on the road at Anfield this past weekend.

The only silver lining for Spurs is they have already played all but one team (Chelsea) in the top six on the table right now, so they should be able to start stringing together some winning streaks (something they haven't done yet this season).
Around Europe…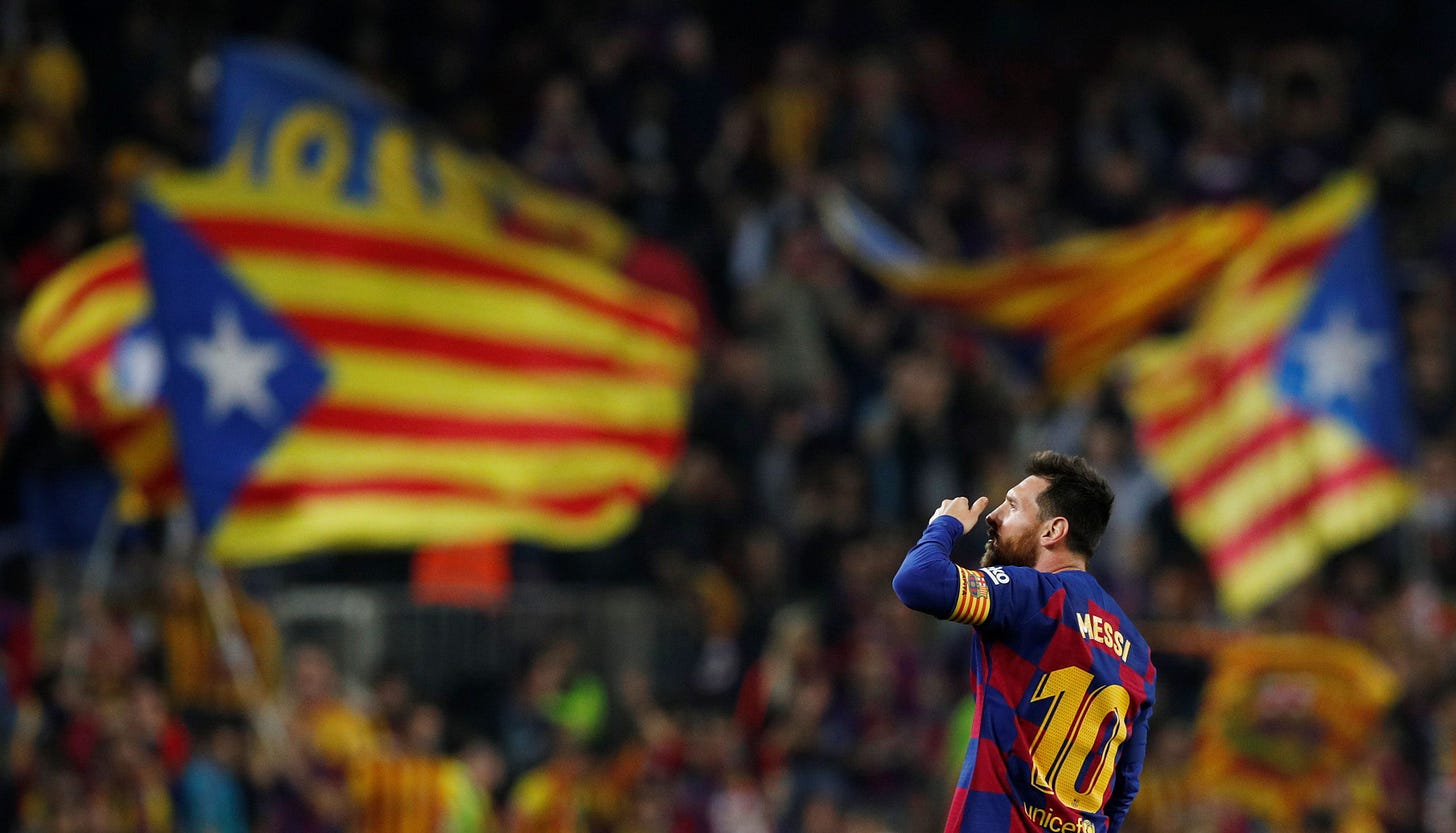 Lionel Messi scored the 50th free kick goal of his career today in Barcelona's 5 - 1 win over Valladolid. It is a must-watch (and as usual, a must-listen from beIN Sports commentator Ray Hudson). Barcelona are in 1st place in Spain's La Liga with 22 points. If Real Madrid win their game against Levante tomorrow (Thursday), they will be in 2nd place with 21 points.

Neymar is injured… again… missing PSG's last two games in France's Ligue 1. Luckily for the Paris side, however, they still have 20-year-old Kylian Mbappé who returned from an injury of his own just as Neymar went down. Mbappé, clearly not missing Neymar's help, has scored six goals in their last three matches across Ligue 1 and the Champions League. PSG are in 1st place in France's Ligue 1 with 27 points, comfortably ahead of 2nd place Nantes and their 19 points.
That's it for this edition. As always, feedback is welcome and appreciated.